MedTech
Hiring
Investors
New markets
Do you have the acorn of an idea for a tech business?
Finding a productive foil in a co-founder; sourcing investment; identifying a clear market need; then building the product is only the start of the battle if you are going to realise its potential.
When neuroscientist Dr Paul Rinne founded rehabilitation startup GripAble with bioengineer Dr Mike Mace in 2017, he had one clear focus: scalability.
Based in London, it aims to digitise rehab for people with neurological and musculoskeletal conditions 'from hospital to home' through its bespoke hand-held sensors, software and data services.
"We built the first GripAble sensors and app with accessibility and scalability as our top priorities," Dr Rinne tells TechBlast. "We only look to innovate and produce services that we think are scalable for mass adoption and put the patient and the therapist at the heart of everything we do, and never stop taking user feedback on board. 
"This approach has allowed us to reach a broader market."
MedTech 50 2021 star
GripAble, fourth on our sister publication BusinessCloud's MedTech 50 ranking last year, closed £8.5 million in Series A funding in April. That followed a period of significant activity in the US by the company, including its recent partnership with leading medical equipment distributor, Medline.
With more than 8,000 individuals having already used the platform in 18 countries, GripAble has established itself as a leading technology in the remote-rehab space in the UK, recording 100,000 activity sessions and 27m movement repetitions across its users. 
"I was working closely with therapy teams on stroke wards, where the need for an accessible mobile opportunity for patients undergoing physical and occupational therapy became clear," Dr Rinne says of the origins of the company while he worked as a digital health consultant at Imperial College London.
"Traditional therapy equipment – like foams, cones, and putty – can't provide real-time motivation, feedback or data for tracking progress. All current technologies in the field are simply too complicated and inaccessible. 
"Patients become disengaged in their rehab regimes once unsupervised. This is when the idea for GripAble was born – a smart mobile assessment and training platform delivering a new motivating and scalable rehabilitation pathway."
The platform has been tested and developed in partnership with thousands of occupational therapists and physiotherapists; patients across multiple clinical conditions; and leading academic institutions including Imperial College London and within Imperial Healthcare NHS Trust. 
Focus on your users
Asked how to marry the need to build a profitable business with the philanthropic aspect of what it does, Dr Rinne answers: "By never losing our focus on our users – therapists and patients – and delivering the most efficient and effective patient rehabilitation pathway, to ensure as many people as possible can improve their quality of life. 
"We also understand that a large sum of money is required in order to make a shift in the clinical care pathway, and we have to be able to prove to investors that our business model has huge growth potential."
Within five years he expects the business – which currently has 30-40 full-time employees and consultants, with plans for further recruitment and increased automation capability in the pipeline – to be the world's most efficient and effective rehabilitation pathway.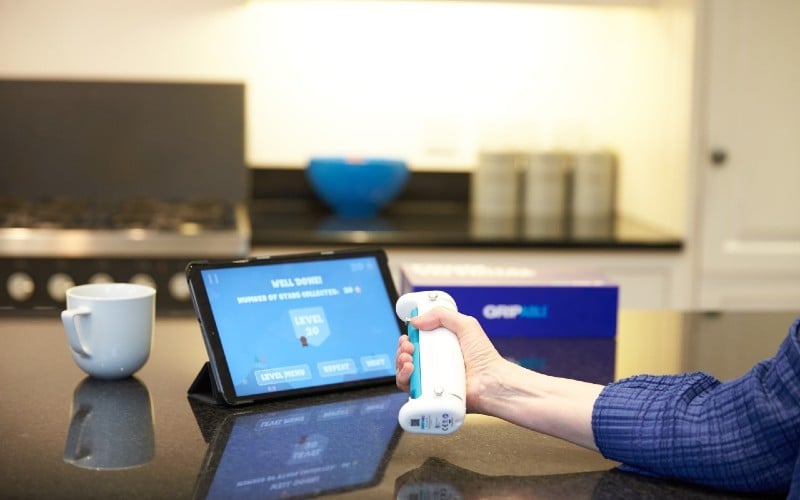 "It was challenging innovating in a turbulent healthcare environment, and launching a product during a global pandemic, as the sector was simply not set up to absorb change quickly," he admits. "But by constantly reminding ourselves about development for the end user, and requesting feedback wherever possible, we managed to successfully cut through these market challenges."
He adds: "As CEO, I need to be across all areas of the company, whether that be top level commercial strategy and finances, product strategy, sales and marketing, or patient and therapist support. 
"But my biggest focus has to be on scalability, sustainability and commercial expansion, and taking us from working from hundreds of patients to now thousands, and making sure that becomes hundreds of thousands in the coming years."
No fear
Asked for further advice to offer fellow startup entrepreneurs, he says: "I would advise not to fear taking risks or making mistakes, as it is all part of the process. This requires you to be bold and resilient, and you must keep fighting for what you believe in. 
"Surround yourself with the best people possible – you cannot do it alone – you need smart people who will fight as hard as you, to get you through both the good and the difficult times. 
"It's also important to constantly test and retest your product so it really is the best solution for your users."