MedTech
Investors
New markets
MedTech companies are slower to market than almost any other technology subsector – and with good reason.
Ground-breaking medical devices, for example, must be moved through proof-of-concept and prototype to testing, final design, regulatory approval and, finally, a scalable product sold into a receptive marketplace.
Many will be spun out of university research departments. "There is also a phenotype where a founder who has a product idea develops it into a company without university provenance – you don't always need it," says John E. Milad, CEO of Quanta Dialysis Technologies. "Some of the most successful companies in our sector fit into that category.
"Then there are industrial spinouts like Quanta, which is probably the least common origin story."
Headquartered in Alcester, Warwickshire, Quanta was spun out of Birmingham-based FTSE 250 engineering giant IMI plc in 2009. American Milad, an investment director at NBGI Ventures at the time, was a founding board member.
"IMI had some really interesting technology around the management of fluidics – pumping and mixing on a plastic cartridge – which had been successfully applied in other industries, and which the team was looking to develop into an affordable portable dialysis system," he tells TechBlast. 
"I got really fascinated by the potential of the technology: how it could take a 200-pound refrigerator-sized machine and shrink it down to something like your desktop printer.
"Companies that don't have the experience of working in the medical products field often have a generalised nervousness about medical product liability – what happens if you get it wrong. They tend to not know how to develop a technology into a medical device or product. 
"They also have a rightful appreciation that this is very specialised and that you need to understand the regulatory framework."
Exits and IPOs
Milad, who moved to the UK permanently in 2000, had extensive experience of investing in innovative medical companies, managing VC portfolios and helping to commercialise products in the sector.
Having helped several European and US companies achieve successful exits and IPOs – including heart valve replacement company Symetis, sold to Boston Scientific for half a billion dollars – he was appointed CEO in 2014 to help develop the company's prototype into a scalable commercial device.
Named SC+, the microwave-sized machine now matches the performance and dose equivalence of fixed-cost installations in purpose-built bricks-and-mortar clinics which require an army of skilled staff to operate.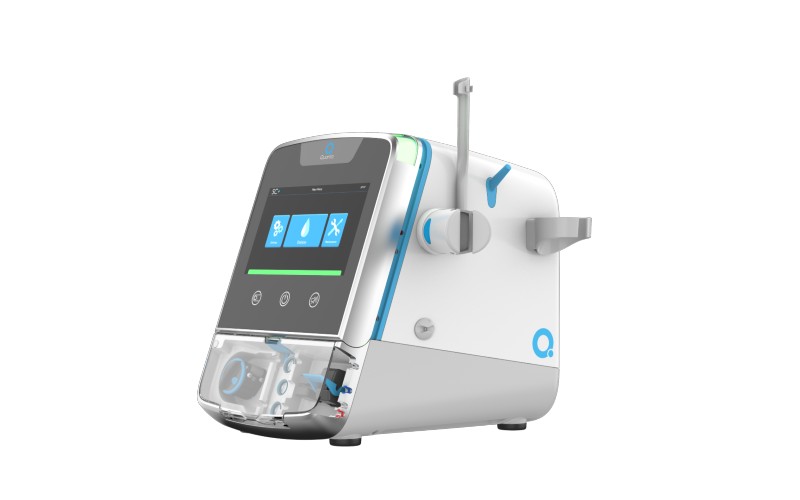 The SC+ can be administered by the patients themselves, or their carers, at home at any time of the day or night; or by trained staff in ICU or more local medical centres. In essence, it makes dialysis – the cleaning of toxins and excess fluid from the blood of patients with kidney failure – more convenient.
A huge burden on healthcare systems and disruptive influence on patients' lives, patients beginning renal replacement therapy also face less chance of survival than most metastatic cancers.
"There's a big difference between having a proof-of-concept and having a scalable product," explains Milad. "Oftentimes, founding teams have really good ideas and they're really creative, but don't have all the capabilities and discipline needed for final execution of the product development.
"The board identified that Quanta would benefit from more seasoned professional leadership – someone who knew their way around the devices sector – and kicked off a search to identify the most capable CEO to lead the company. 
"I had the surprise and privilege of being invited to be that person! It was a little bit surprising to us all that, after 12 months of searching, someone on the board was the best fit.
"It was a wise decision because there was a lot that we needed to do when I stepped in. I think the benefit of my familiarity with the company, the tech, the team, the space, allowed us to move quickly. It might have been harder to do if someone was coming in cold."
Milad oversaw a slick redesign of the product – which he says has anecdotally been compared to Apple devices – added missing digital connectivity capabilities, rebuilt the supply chain and strengthened the team with people who had experience in medical device manufacture.
"I spent a lot of time being very mindful about creating the right team and making sure we were all aligned," he says. "That's one of the first jobs of a leader: make sure everyone understands clearly what we're building. That has intensified since we opened up our US operations."
The firm raised a £175 million Series D investment round last year and is expanding rapidly Stateside following FDA clearance for use in acute and chronic care facilities, employing more than 30 people in a base outside Boston. It also has clearance in the UK and European Union.
"We also rethought our commercial strategy, which was initially focused around the home. We realised that if a device is portable enough for the home, it could give greater flexibility to dialysis full stop," says Milad.
"If a patient can operate it safely at home, surely a critical care nurse operating in the ICU can too?"
Scaleup phase
Milad describes the coming months as an exciting prospect. "When we set up Quanta in 2009, if a dialysis patient had been asleep for the past 20 years then suddenly awakened, they wouldn't have known that 20 years had passed. Other fields of medicine had changed very rapidly with the introduction of new techniques and procedures and technologies, but the field of kidney health had seen very little innovation.
"We were trying to change the world on our own, push this hard rock up a hill. We've always believed in the purpose of what we're doing, but not had a chorus of people around us singing from the same hymn sheet.
"The world is now changing: there is now a critical mass in our field to deliver transformation to kidney health. It's exciting for patients, for Quanta and for the industry."