Hiring
M&A
New markets
BT once told us that "it's good to talk" – and it's a principle which Craig Dunham has clearly taken to heart.
The American, CEO at technical SEO scaleup Deepcrawl, speaks of the business with great relish from his base in Chicago. That enthusiasm extends to the London-headquartered company's customer base.
Dunham was appointed to the top job in August following a six-month stint as COO. "I've been on this rampage since I started to try to talk to as many Deepcrawl customers as possible!" he tells TechBlast.
"I called it the 'summer of 50': I told my customer success team to go and get me 50 customers to talk to. I've done that. 
"It's a small sliver of the entire base of our customers, and I would love to figure out how to get to talk to all the rest, but once you get to a certain size, you've got to be realistic – I'd be on the phone all day long."
The company's website performance tools are used every day by thousands of enterprise customers including Adobe, eBay, Microsoft, Twitch, Canva, PayPal and IBM, with clients spanning industries from eCommerce to media, travel, financial services and healthcare.
You imagine that most tech startup entrepreneurs would feel as passionately about their platform as Dunham – and these early-stage businesses have a unique opportunity to connect with their clients.
"You've got to stay laser focused on the customer at every turn," he advises. "Make sure the customers you have are happy with your product or service; deeply understand what those customers' pain points are; and understand the value that you're providing to help them with those pain points. 
"When you're really early, you're at a size where you can actually talk to your customers often – you might only have 15,20, 25, 50 customers. Pick up the phone as a CEO and call them."
Events boss: Founders should focus on building teams and systems
Former investment banker Dunham was cut out for growing businesses at an early stage of his career. "I was working as an analyst for Citi and Lehman Brothers, crazy 100-hour weeks," he recalls.
"A life working those kinds of hours and in corporate finance was not suited to what I really wanted to do, or what I saw in my future, so I joined Capital IQ."
The market intelligence firm employed around 75 people back in the early 2000s. "That's what started my love of working at small companies; helping to take startups and scale them into larger companies," says Dunham.
"I was part of a small team there that helped to grow that business through its acquisition. I spent five years in New York and five years in London working there, helping to launch go-to-market operations in Europe."
A move to another small company in Seismic – now valued at $3 billion – followed. "I was employee number 20 and there from Series A through Series E. I helped lead an acquisition for them and got my first shot at running a company: I ran the acquired entity and helped to wind it down to zero and migrate all the customers, people and operations across. That was pretty interesting.
"Deepcrawl then felt like the perfect chance for me to take those broad cross functional experiences and help the company navigate its way through the next phase of growth."
It didn't take the company long to promote him from COO to CEO, with founder Michal Magdziarz stepping into a new role as president and chief architect.
"Michal felt he was best-suited to just go and focus on product – he's our visionary, our innovator, the guy who makes sure that we're staying on top of the trends in the market," says Dunham.
Deepcrawl employs 75 people at its headquarters in London with a further 40 staff in New York and 10 in Krakow, Poland. 
The cloud-based web crawling technology helps world-leading brands harness their full revenue potential by providing marketers and SEO experts with actionable data and insights to diagnose and fix technical issues, improve website visibility and drive more organic traffic.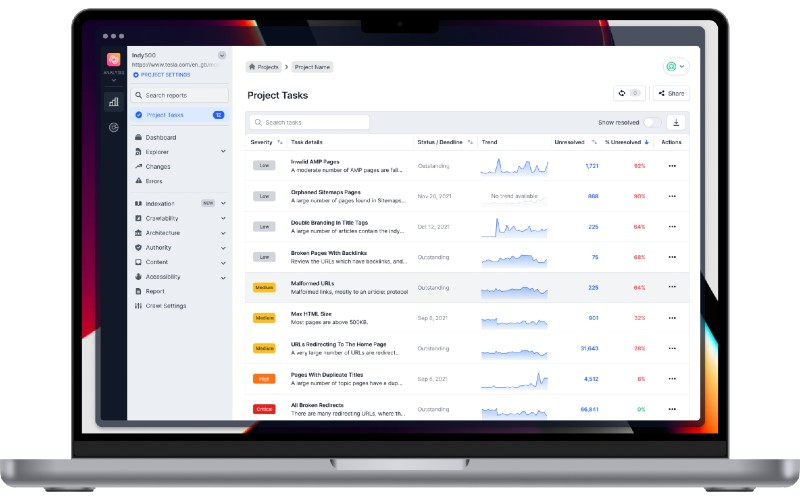 "When most people think about SEO, they think about keywords, but the reality is that without the right sort of website architecture and foundation, companies who invest a lot in owning certain terms won't really see the benefit of that," says Dunham.
"Our technology is designed to ensure your site is crawlable and indexable by Google and the other search engines. We've got tools to prevent some key issues that could affect their SEO performance and website performance. We help them understand and implement that foundational layer from which Google and other search engines can properly crawl their sites, leading to better organic search results."
Problems such as broken links can decrease credibility and send you down the rankings. "Web developers are people and they make mistakes," says Dunham. 
"Without getting too technical, there are certain tags that go on every page and one of these tags is a 'no index' tag which tells Google's bots to skip over the page. If someone accidentally puts a 'no index' tag on a high revenue generating page, we're talking millions of dollars that an eCommerce company could potentially lose. 
"Our technology allows them to find all those 'no index' pages and broken links and give our clients a path to make changes.
"We are also the only company in the market with a QA tool: instead of just being reactive to things that are already broken, this proactively prevents bad SEO from ever happening. 
"We've got tech that will crawl the website deployment pipelines and flag if code being readied for release will potentially affect SEO in a negative way."
He says Google recently validated its approach with changes to its algorithm: "Core Web Vitals put more weight in their algorithm towards website performance – how fast your pages load. 
"It was like Google saying that this also matters to them. For us as a business, we've seen an uptick as a result of that."
Founded in 2010, Deepcrawl closed a $19m Series B funding round last year led by Five Elms Capital and Beringea, taking total funding since launch to $25.8m. Dunham expects a Series C to follow early next year and has aggressive hiring plans for 2022.
"Hire people smarter than you!" he advises. "I live by that. I have no ego… I just want people to be better than me. Just go out and get great talent."