HealthTech
Hiring
M&A
New markets
Cera Care turns five this week – and co-founder Dr Ben Maruthappu is now the CEO of a business with around £200 million turnover.
One of Europe's fastest-growing companies, Cera has grown to 10,000 employees and delivers 40,000 sessions of healthcare within people's homes each day. "It has been a roller coaster journey over the past five years, with plenty of ups and downs," Dr Maruthappu tells TechBlast.
"That was always to be expected given that, not only are we a high-growth technology company, but we operate in a sector that is constantly evolving; [however] we've been able to stay true, consistently, to our vision of becoming a global leader in revolutionising healthcare at home through technology."
Cera's central app combines digitalisation and data analytics to monitor and safeguard people's health. Carers and nurses input clients' vital signs, as well as a range of other health indicators such as their activity levels, sleeping patterns and nutrition, to gain a much clearer picture of their overall wellbeing. 
New research has revealed that its platform reduces hospitalisations by a staggering 45%, while predicting an illness up to five days before it occurs – reducing pressure on the NHS and wider health services.
"Through the app, we can monitor these data points in as close to real-time as possible, and detect changes in their condition much earlier than traditional methods – catching, for example, a UTI or viral infection on day one or two rather than day seven or eight," explains Dr Maruthappu. 
"Through our machine learning technology, the app can also advise the professional carer or nurse on the best next steps, and how to escalate that individual's treatment."
A £30m deal immediately prior to COVID-19 saw Cera acquire leading at-home care company Mears Group, giving Cera a far larger presence in the care sector.
As a result, Cera has delivered more than 10m healthcare visits in older people's homes across the UK since the pandemic's outbreak.
"The integration was a major milestone for our company, and provided an ideal springboard through which to accelerate our growth throughout the UK, into new towns and cities," says Dr Maruthappu. "We're delighted with the speed with which we've been able to integrate our technology into services throughout these regions, improving health outcomes and reducing hospitalisations. 
"The biggest challenge was that we undertook this integration during the pandemic. However, we were able to quickly turn the challenge of COVID-19 into an opportunity, and use our technology to retrain new carers from other sectors, to help ease resourcing challenges in social care and also put people back to work during the recession."
'Shape Shifters' – why entrepreneurs need to nurture the right mindset
More than 10,000 people have retrained as carers through Cera in the last 18 months, while the HealthTech now plan to develop 15 digital healthcare hubs throughout the UK over the next six months. 
The company says the hubs, combined with Cera's existing network throughout the UK, will see it providing healthcare services to a community equal in size to the capacity of several dozen NHS hospitals, or 1,000 care homes, every day.
"Prior to the pandemic, we were seeing a consistent increase in the volume of people requiring healthcare services in their own home, and COVID-19 has only accelerated this shift," says Dr Maruthappu. "We've been able to respond to much of this demand, which has also enabled us to expand geographically, technologically and in terms of headcount.
"As a company we are constantly striving to innovate, and find new ways through which technology, digitalisation and data can improve every part of the healthcare at home ecosystem."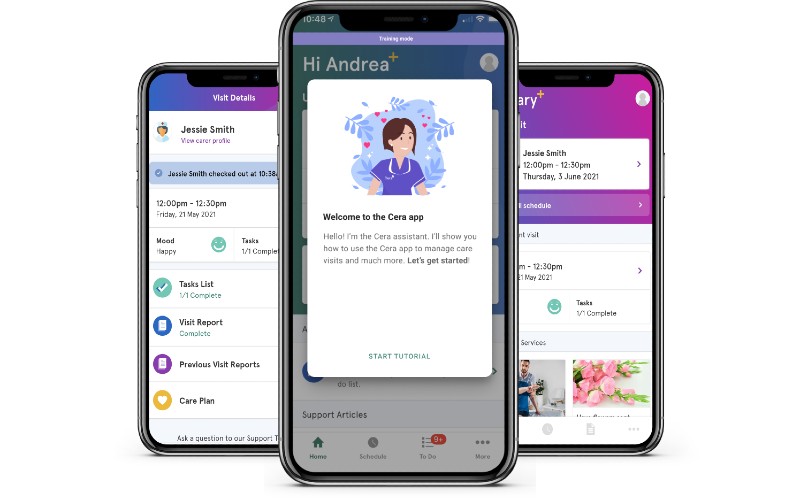 For example, it recently launched a first-of-its-kind digital flu tracker and treatment system, 'Flu-ID' (above). "This system logs the vital signs of our clients, and monitors for changes in their condition that would indicate the onset of flu, significantly quickening a diagnosis and enabling earlier treatment." 
There are also plans to expand abroad. "We are now actively en route to internationalisation, and are exploring a number of opportunities overseas. We have also recently expanded into a number of new service lines, including nursing, telehealth and repeat prescriptions, and will continue to explore new opportunities to increase our footprint across the healthcare ecosystem."
Dr Maruthappu's advice to startup entrepreneurs – particularly in the HealthTech space – is to "focus on problems that real people – be it patients or healthcare professionals – are facing in their everyday lives… an idea, or company, will grow naturally from that starting point".