M&A
Retail
For a man who has, alongside his co-founder David Hague, built and sold two businesses with an aggregate value of more than £50 million in 10 years, Damian Hanson is incredibly modest about his achievements.
The duo sold their first business One iota to Sanderson Group in 2013 for £5.43m and saw their second venture Mission Labs acquired by Gamma Communications in a deal worth up to £46m in March 2021.
"We don't think there's an exact recipe for growth but first and foremost what we've always tended to focus on are industries that are ripe for digital disruption and change," Hague tells TechBlast.
Hanson, a Burnley fan, is currently preparing to open a new office in Manchester and double Mission Labs' workforce to 200. He says he's always been an entrepreneur.
"I did various things as a kid growing up to make money," he recalls. "I did a gardening round at one point but the best one was selling cans of pop in the school canteen.
"The school noticed that their own sales of pop dropped and the venture fizzled out, pardon the pun. That's like one of your crap jokes, Chris."
Bad jokes aside, a key part of Hanson and Hague's career education was spent working at 2ergo alongside the two founders Barry Sharples and Neale Graham.
Hanson comments: "I was brought in as a commercial person and I progressed to sales director. From an entrepreneurial point of view, it taught me about the driving ambition they had as founders of the business, effectively starting out with nothing and building it so it was listed on AIM. I learnt from that."
It was at 2ergo that he met his future business partner David Hague, who had built up a mobile marketing agency in the UK and Australia that 2ergo ultimately acquired.
The pair left in 2010 and eventually launched One iota together as their first startup.
"We've known each other for nearly 20 years," says Hague. "Outside of work we're friends and will have a beer together – and that helps.
"We know each other's strengths and weaknesses. Knowing what to leave to one another is one of the reasons we've been successful.
"David is a fantastic innovator. He knows technology like no one I've ever met. He knows how to implement scalable technology.
"I guess my background is more on the commercial and operational side and maybe the growth side of the business. We leave each other to our strengths."
One iota took advantage of the shift from bricks and mortar retail to online shopping and rapidly started working with big brands like JD Sports, SuperDry and Footasylum.
"It's all about timing," says Hanson. "I felt I'd learnt a lot from other businesses and hadn't risked too much too early.
"Setting up a business on your own is very difficult. Every startup founder will explain the challenges you have on a daily basis. It's not for the faint-hearted. We raised some early seed capital after about six months to get the business motoring."
2ergo's founders Sharples and Graham were among the early investors in One iota.
Hague says startups have to be agile. "You've got to take those decisions quickly. If you get them wrong, you've got to learn from them.
"Within a short space of time we landed some of the biggest names in the high street.
"We'd grown our clients very quickly. The technology was in play. We started to get prodded and pushed by some of those larger retail names."
Before long they came to the attention of Sanderson Group and were bought soon afterwards.
"We'd been handling millions of pounds of shopping basket transactions for their business," says Hanson. "They saw us becoming a significant part of their future growth.
"When we met up with Sanderson they were AIM-listed and had been a very successful business for a long time. They ticked all the boxes in terms of company pedigree and history.
"We were able to find a deal with them. David and I still ran the business during the period of the earnout. We matched their ambition of where they wanted to go to. It was a good match. We still believed in the business we founded and it remains successful today."
They agreed a three-year earnout with Sanderson Group but continued in an advisory role when that finished.
Fast forward to March 2016 and Hanson and Hague joined forces again to launch Mission Labs.
"The mission was to challenge the traditional telecoms industry with a digital-led approach with in-house technology and our wholly-owned products," Hanson says.
"The challenge in telecoms was the legacy of cables, desk phones and clunky hardware moving to a cloud-native approach. The aim was to remove some of these shackles."Hague says the secret to growth is being clear about the value of your business as a tech company.
"We view ourselves as a technology business in the telecoms sector and we had to have our own technology," he says.
"We could not be reselling somebody else's platform to try and make a margin. We had to have our own technology and our own IP."
Mission Labs launched two key products – CircleLoop, a cloud-based phone system for SMEs, and SmartAgent, a contact centre solution for enterprise customers.
"If your product is right and you've researched the market right you'll attract customers," explains Hanson. "I'm pleased to say both our products attracted customers.
"The other important thing is you've got to have a super-talented team around you that is pulling the rope in the same direction."
During COVID-19, Mission Labs continued to expand, recruiting over 50 new team members, and securing multiple new customers.
It was a winning formula and listed communications software group Gamma acquired it earlier this year in a deal that could be worth up to £46m, with Hanson and Hague remaining with the business to continue to grow in the coming years.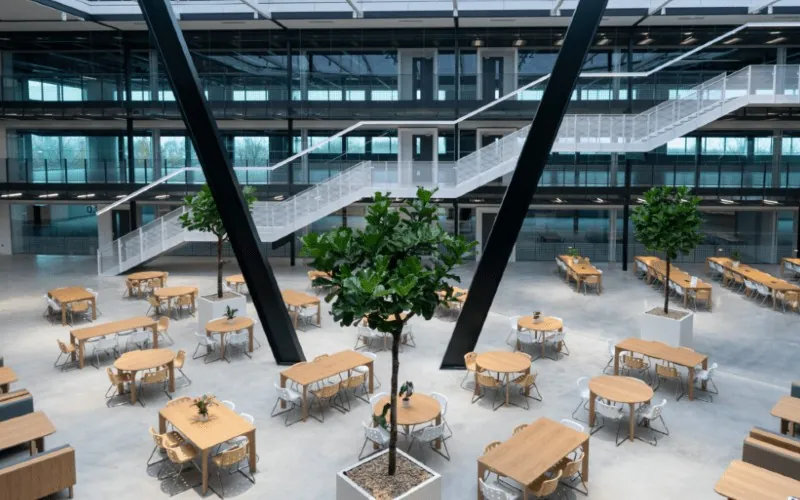 Hanson insists he's not the type of person to rest on his laurels and he's focusing on Mission Labs' move to Arbeta in Manchester (above) and doubling the workforce to 200 people over the next 12 months.
"The recruitment market is exceptionally competitive," he says. "Arbeta will effectively be our corporate head office.
"I think we're blessed in a way by our history by some of the things that we've done. People know they're coming to work on innovative projects and join a team that is always looking to."