FinTech
Hiring
Investors
Startups are notoriously time-poor, with founders performing multiple roles from raising investment to business development and recruitment.
It is a problem that Dr Chris Sier knows only too well. "I tell people who are planning to raise money: give yourself six months where you really can't focus on the business," he tells TechBlast.
Dr Sier, the Treasury's FinTech envoy for England and chairman of FinTech North, is speaking to me at a conference held by the latter organisation. However his full-time role is with London-based ClearGlass Analytics, a company he founded three years ago with tech experts Ritesh Singhania and Kunal Varma.
"We lost clients over the six months when we were raising because I didn't focus on the business. I just couldn't: I had Zoom calls with VCs that went on all day," he explains.
Dr Sier raised £2.6 million in a seed round earlier this year which included European VC Lakestar and Outward VC as well as several significant angels from both the asset management and pension fund worlds. 
The startup is targeting a £9.5 trillion governance and communication problem as it says big finance – and the clients of big finance – don't always communicate effectively. It is aiming to deliver greater accountability to pension funds and the wider asset management market through its digital platform.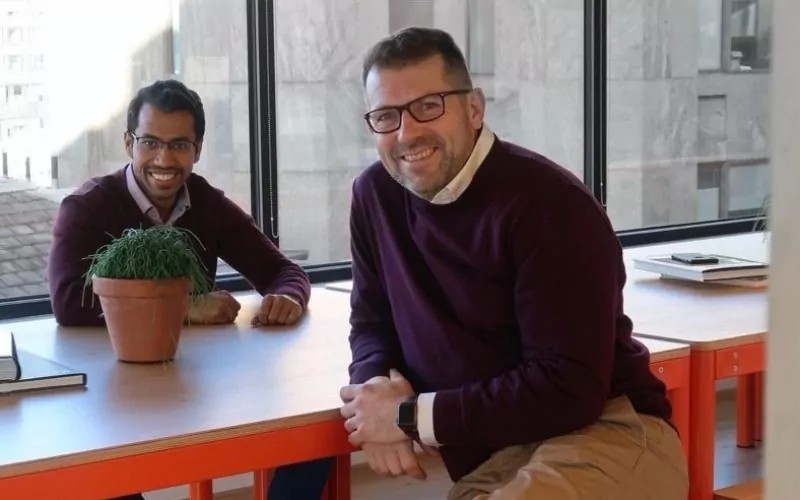 "I've kind of come in latterly to understand the pain the small startup has in raising money, growing and surviving," says Dr Sier, a World Bank expert who previously developed the cost transparency standard at the request of the FCA.
"We're looking to solve a problem that I've been aware of for many, many years – but finding the time, space and actually the courage to do it is very hard. 
"Working strategically over the years with startups, funders such as VCs and the government, you build up confidence – so I have a great deal of admiration for people who just jump in straight away and do it, because it's not easy."
Dr Sier says he managed to secure eight term sheets from investors. "We were very, very lucky – normally you get one or two, so we could do a bit of negotiation. But to get to that stage, you have to go through a lot of fear; a lot of risk; and a lot of hard work.
"The hoops we had to jump through… you go through a junior analyst; senior analyst; partner one and partner two interviews; the due diligence interview; the technology team comes in and kicks the platform with pentesting and things like that.
"Then the final part is everybody wants the business plan in a different format because they have their own internal models and want a spreadsheet they can just plug into the system!"
He says that the hard work then begins for real. "You need to have a salesperson doing the pitching because what they're buying is belief. You can make the numbers say whatever you want, but the one thing that's very important is to paint a billion-pound marketplace: a big enough market that you are going to get significant traction by winning a fraction of that. 
"Bear in mind that if they invest in you, they're going to want a 10-15 times return on their investment. So to give you what that means, we got £2.6m in, which was for 20% of our company. If they want 10 times their money, you have to build a £100m company, which probably has an annual recurring revenue of £10m. 
"So you have to sit down and ask yourself: will I ever get to that point? It's a tough question."
He adds: "As soon as you take their money, you can't just sell – you're stuck, you're in the groove. You've succeeded in clearing the first big hurdle, the first of many; you now have to grow and keep growing, keep growing and keep growing until someone gets you off the escalator."
ClearGlass, a Founders Factory accelerator alum, employs 34 people. "What you need to find are intelligent people who have a really curious mindset: I value curiosity over almost anything else," says Dr Sier.  
"As you grow, you just run out of personal capacity. So finding a couple of senior people is something you definitely have to do – but then everybody has to be brought along with you. 
"That is where self-learning and curiosity comes in. Don't just turn the handle – you want people in the company who are going to say: 'I don't understand what you just said. I need to ask you again. Is there a reference I can go to learn more?' Finding those people who are just hungry for knowledge is not easy.
"As the person in the company that has all the industry connections and experience, it puts a lot of pressure on me to do all the business development, which is really hard. I try very hard to take as many of the guys along with me to get them up the learning curve as quickly as possible."
He adds: "Trying to find people who want to take the risk of working on a startup is really hard – they are few and far between, they really are. You can't afford to pay a big salary to a professional person: you have to pay £30,000 to a new graduate – and you have to teach them and help them grow."