Interviews
Fast growth
Hiring
Investors
TechBlast's first annual FUEL Manchester event saw the founders of big-name businesses Peak, Playdemic & Online4baby regale a breakfast audience with their entrepreneurial stories.
However the real magic followed these panels as a series of behind-closed-doors masterclass sessions saw startup and scaleup businesses connect directly with a dozen industry experts on the topics of funding, growth planning, people and branding.
The growth-focused event was held at KPMG's Manchester office and also sponsored by Salford Business School.
"FUEL felt like an event designed for entrepreneurs," reflected Guy Remond, founder of thestartupfactory.tech. "The free-flowing masterclasses – guided only by a high-level title – was something very different. And it worked – how very entrepreneurial!"
Remond was one of the experts on the growth planning masterclass pod with established entrepreneurs Christy Foster (pictured below with Remond), founder and MD of Online4baby, and OneFile founder Susanna Lawson.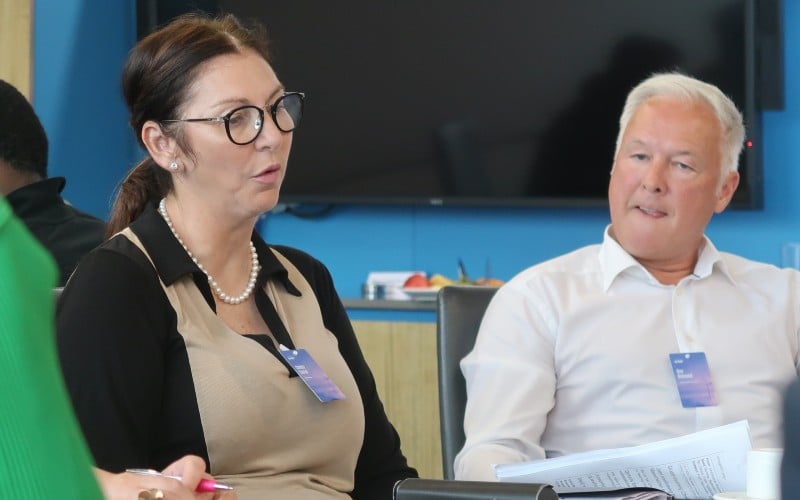 Branding for success
Ayan Mohamed (below in green), founder and CEO of data automation software startup Digitech Oasis, was among the 23-strong cohort. 
"I found the 'branding and marketing' masterclass particularly valuable, gaining practical insights that I can implement in my work," she said. "The networking opportunities were well structured with the masterclasses and provided a space where we could connect with individuals with similar interests. I would only wish it was longer!"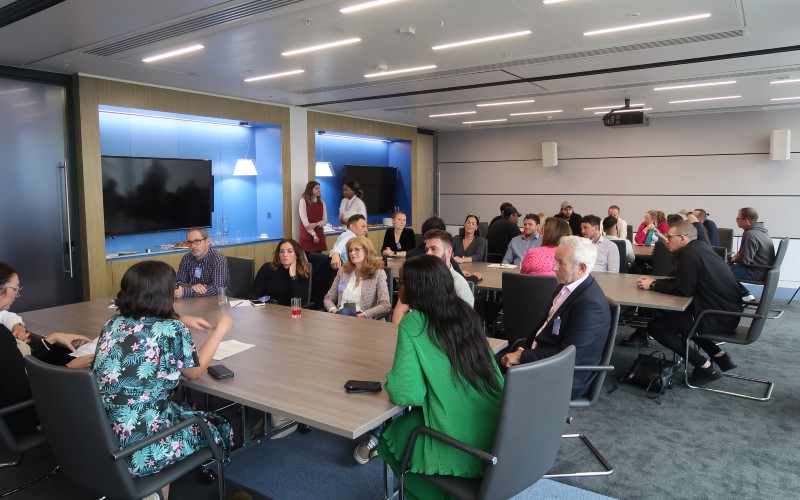 Sam Royle, co-founder and CEO at Manchester Startups 2.0 firm SoSquared – which connects brands with influencers – also found branding most useful.
That pod featured experts Kimberley Waldron and Amman Ahmed, founder of SkyParlour and MusicForPets respectively, alongside Professor Mandy Parkinson, chair in business innovation, University of Salford Business School.
"It was so great to hear from founders directly what the key challenges they face today, so that we can help formalise support to help them address this," said Parkinson. "My advice is to be ambitious; don't be afraid to take calculated risks; don't be afraid to finance growth if needed; and learn to adapt quickly – fail fast and learn fast.
"Have a succession plan! Understand what you want your resources to do, build a clear role profile and make sure whoever you employ fills that need. Set clear targets, monitor performance and build a strong team culture by creating strong values."
Funding advice
Ed Prior (below, centre) recently joined KPMG as associate director – corporate finance after eight years at GP Bullhound. An expert on the funding pod, he said events like this are "crucial" as the "ecosystem continues to grow".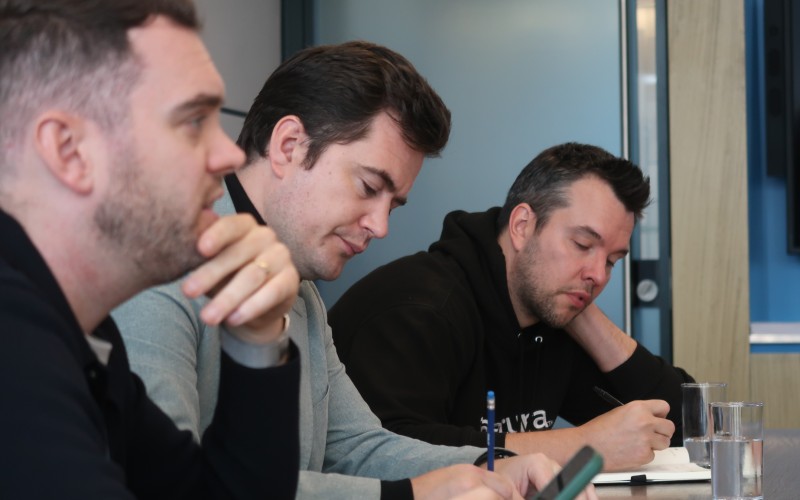 "The event brought together all aspects of the tech community and allowed entrepreneurs to network with, and learn from, accomplished founders who have successfully built and exited their companies," he explained.
Emma-Louise Fusari, founder/clinical director at HealthTech startup In-House Health, also part of our Manchester Startups 2.0 list this year, praised the advice she received on the funding pod  – which featured Praetura MD Dave Foreman and KPMG Acceleris partner Patrick Molyneux as well as Prior – adding: "I think it was an incredible first event and very worthwhile to take time out of the business to attend."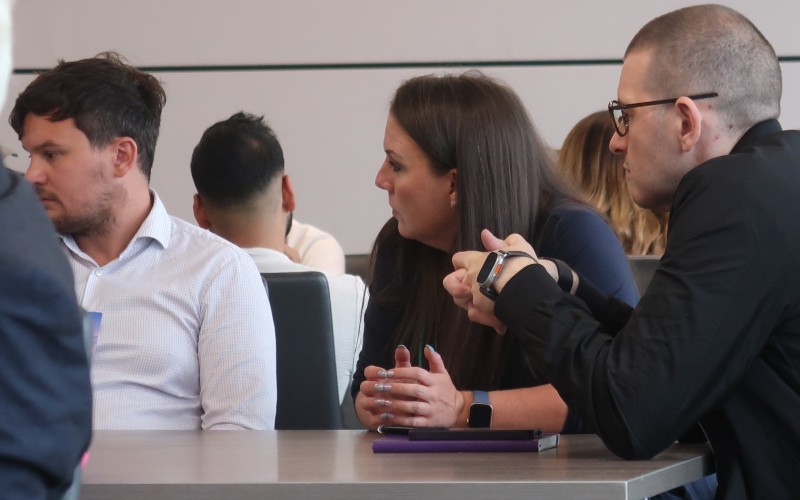 Also among the cohort was Zally founder Patrick Smith (above, right), whose mission is "to create a world without passwords".
"Each expert brought a unique perspective. Their depth of knowledge and ability to clearly communicate complex ideas stood out," he said. "I thoroughly enjoyed the event and felt it was incredibly enriching." 
FUEL Manchester: Leading entrepreneurs offer top tips for growth
People focus
James Garner, co-founder & CEO of Sticky – which helps brands to connect with customers via physical 'stickies' that use NFC technology to interact with their phones – praised the "big names" among the experts and speakers, as well as the open discussion format, and found the people pod, focused on hiring, human resources and training, most useful.
AppLearn CEO Andrew Avanessian (below, right), formerly of Avecto and among the experts on that pod, said he was hugely motivated by the array of amazing companies and talent in MCR. "When you are heads-down growing your own business, sometimes you forget what a great ecosystem we already have," he explained.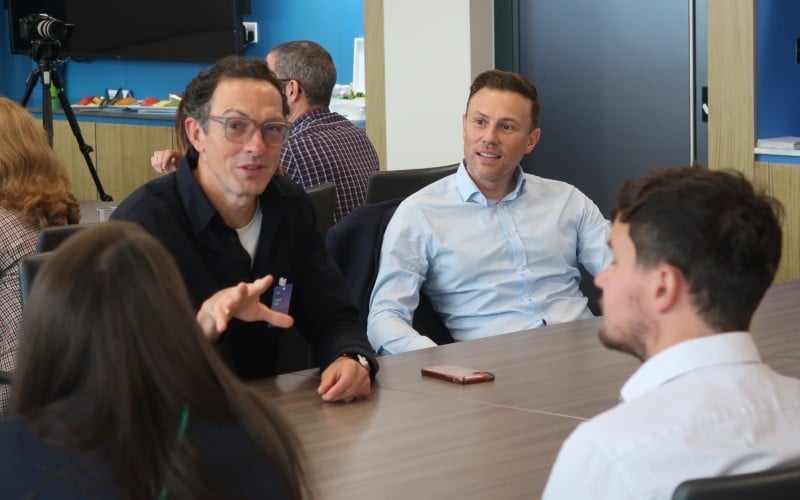 Daniel Moss, COO at payroll and billing software firm My Digital, said the pods "bring something over and above the panels" by allowing engagement with the experts. Andy Nicol (below), director at digital transformation specialist Sputnik Digital, also praised the format.
The art of resilience (& climbing Kilimanjaro after a broken elbow)
Joaquin Contreras, founder and CEO at Pandemic Tours, described the atmosphere as "energising". 
"I'm currently at a pivotal stage with my startup, looking to scale globally. Your event significantly accelerated my efforts in this direction, achieving in a single day what I'd struggled to do on my own over the past two months," he reflected.
The final word goes to Richard Fallon, founder & CTO at data intelligence firm Naimuri: "A great day for founders in the North West to connect with peers and mentors to help guide them and their business."
Sponsors interested in bringing FUEL to other UK cities – or being involved in the 2024 edition of FUEL Manchester – can contact the editor Jonathan Symcox