Star of the Week
Interviews
After I ran the London Marathon in April, the first question Andy Nicol asked was: "Have you got the bug?"
He should know. The Sputnik Digital MD ran marathons in Seville and Manchester this year before his first Ironman triathlon then the boozy Marathon du Médoc. Next week he's taking on Mount Kilimanjaro – with a broken elbow.
Is this a mid-life crisis? "It's my 50th birthday in December and it looks like one! But it definitely wasn't intentional," he tells TechBlast. "Once I'd done the Ironman, and I had a good level of fitness, I thought I might as well add a few things on the end."
Before we delve into the synergies between endurance events and business – in particular planning and resilience – it's worth setting the scene by rewinding back to Seville in February.
Unlikely PB
Injury had prevented Nicol from training and he found himself enjoying several nights on the tiles in the run up to the race with fellow members of the Chorlton Runners. However halfway through the Sunday race, he realised he was on for a personal best time.
"I was just bouncing along, light on my feet, accidentally efficient … my best running buddy Sean Lord was behind me so I decided to push it and ended up beating my PB by 10 minutes. I then paid for it afterwards! 
"I learned that you can put yourself through pain, but there's a cost to it. For the next few weeks I couldn't walk upstairs.
"And Sean annihilated me at the National Cross Country Championships a week later…"
Ironman & a painful lesson
Keen not to repeat the experience in Manchester, he "high-fived every kid along the route". He then completed his third middle-distance triathlon – the Outlaw Half – before throwing himself into training for his first full distance triathlon, Ironman UK in Bolton.
Noticing more overall training benefits from his cycling than his running, he spent an hour several mornings each week on the turbo trainer, and rode two laps of the race's bike course (100km) every Saturday and Sunday for three months.
When it came to race day he beat his target time by 50 minutes.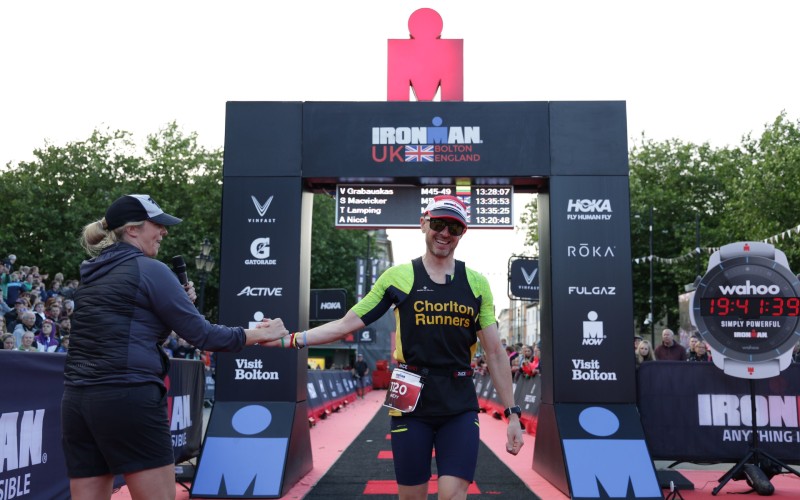 However an obsession with marginal gains would prove his undoing at the Salford Triathlon. His previous attempt had seen him achieve strong times in each of the three disciplines, so getting a PB again was going to be tough. "I worked out that if I could carry enough speed through a corner, I could save myself around 10 seconds. If you multiply that by 30 corners in the race, that is five minutes' advantage on someone who might be fitter and stronger than me," he explains.
"I enjoy those kinds of things – working out where you can gain an advantage. It was a great idea… until I came off the bike on a wet corner!"
Nicol broke his elbow and had the wind knocked out of him. "I was done," he shrugs. "I was in a lot of pain. 
"But a marshal bent my bike back into shape and I realised it was a 30-minute walk back to the start, so I began to cycle to save time. When I started pedalling, I realised I was doing 30km/h – race pace – so I figured now that I was moving again I might as well do a few more laps, transition to the run and finish the race!
"I don't think I'll take corners as fast next time – at my age it's not worth it. I'll settle for an eight-second advantage and all my bones intact."
Mountains & the
Médoc
With the 6,000-metre climb of Kilimanjaro looming, he had lined up glacier climbing on the Gran Paradiso Alp two weeks after the Salford Tri. Undeterred, he completed the 4,000-metre Italian ascent.
"I'm not a mountaineer by any stretch of the imagination! The final push from the hut to Gran Paradiso summit wasn't much more than Snowden in terms of distance, but with crampons (spikes) and at altitude on glaciers, it's a lot of work. 
"It was as energy sapping as walking on sand, and at a 20-degree average gradient. At 20-odd degrees Centigrade and with clear skies, walking on glaciers can be dangerous: the temperature softens any snow bridges that form over crevasses, increasing the risk of falling through."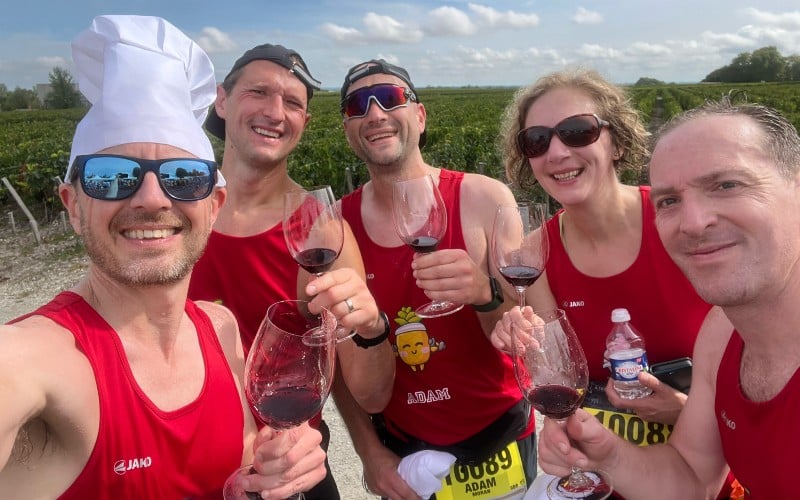 The Marathon du Médoc is a tour of countryside wine chateaus famous for 'rehydrating' the passing runners with small glasses of wine.
"They start you off easy, with around three glasses in the first 15km, but they come thick and fast in the second half of the race!" laughs Nicol. "It's a beautiful route and there are brass bands along the way. By the end, everyone is giggling like schoolchildren!"
And unlike the infamous Jelly Babies handed out in London, the French know how to feed their guests. "I was served steak, cheese, ice cream, chips and oysters – during the race!"
Resilience
Still nursing a damaged arm, Kilimanjaro after the weekend is Nicol's next big challenge.
Did he think of pulling out at any point? "You've got to pick yourself up and plough on," he says. "It's just resilience.
"Running a business, any business, is tough. Curveballs arrive daily and you deal with them. When the buck stops with you, you need to deal with issues, no matter how tired you are. 
"Success, client promises and the team's livelihood and wellbeing all depend on you getting the work in, and getting quality work back out again.
"This is anecdotal, but if you look at people who succeed in business, or the CVs of people who become managers, they tend to have competitive, active social lives. They run marathons… climb Kilimanjaro… and become successful people. 
"They try new things. They're curious. They know they have to work hard and organise and plan. And it's not that you have to do one or the other – it's that the same mindset leads to success in both disciplines.
"Do you sit and watch TV for three hours a day? Or do you go training, take a course, read something on AI? It's just making good life choices.
"Even if things aren't going according to plan, sitting there hoping things will change is not the answer – you have to take action."