FinTech
Nicola Weedall is targeting the biggest stumbling block stunting SME growth in the UK with her startup Hydr – invoice payments.
Rewind five years and you may recall Manchester startup DueCourse, a similar business, making headlines with the then largest fundraise for a FinTech outside London.
The investment, which consisted of £1.25 million of equity and £5m of debt, included backing from founders and investors in Zoopla, LoveFilm, TransferWise and LinkedIn. However 10 months later there were shockwaves when the firm went into administration before it ultimately failed.
The company paid clients 80% of the value of an outstanding invoice, with DueCourse then due the invoice payment once it was settled. However as a platform built by technologists rather than finance specialists, it relied upon the transaction being finalised inside invoicing software to be triggered – failing to take into account the fact that many SMEs do not reconcile their accounts on a daily basis, if they choose to at all.
Weedall had a decade of corporate financing experience behind her at GE Capital before joining DueCourse as head of risk just five months before the administration. She says she was the only employee at the company with any background in invoicing or finance.
After DueCourse, Weedall co-founded Autopaid with DueCourse founder Paul Haydock, a startup which sought to solve the same problem but in a way which ensured the value of an invoice would be paid. After two and a half years they parted company – having both served as CEO at different points – and soon afterwards she co-founded Hydr with Hector Macandrew (below).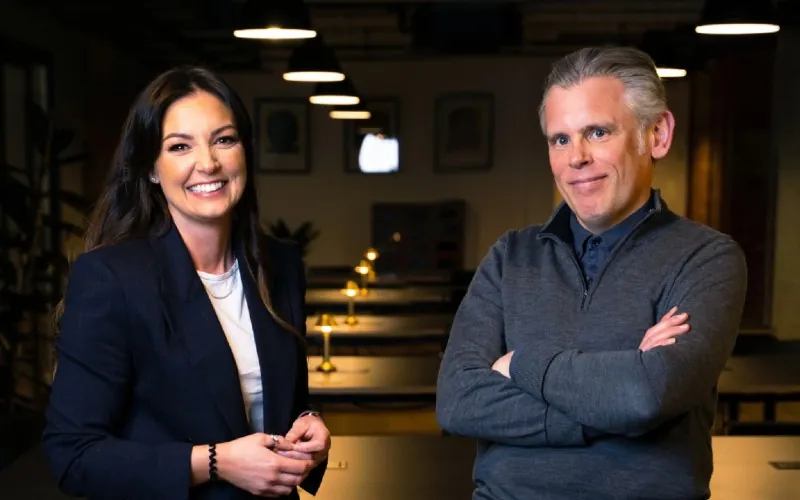 On DueCourse's reliance upon invoice reconciliation, she tells TechBlast: "There was a massive disconnect there. Hydr does things differently in that we speak directly to the customers and collect the invoice: it becomes our responsibility. The payment for that invoice comes to us, rather than going to our customer with us then expecting the customer to pay us.
"We've built the core of the business first then moved outwards, rather than building an amazing front end then trying to work it out in the back end.
"Previous businesses have tried to focus a little too heavily on the tech side of things. With finance, growth is not just about getting money out the door; it's about getting it back as well. You have to be able to perform both sides of that in order to make a success of it."
In effect, Hydr gives SMEs the opportunity to grow by guaranteeing payment terms of 24 hours, with 100% of an invoice paid, minus its fee. "SMEs put weeks into generating work. Our USP is helping businesses to buy supplies – or take care of their other costs – while preparing and delivering that work," Weedall explains.
"At the moment, they have costs before they generate an invoice; then they have the added pressure of payment terms after raising that invoice. The duration of starting a job to being paid for it can extend from a negative 15-60 days to a positive 90 or 120 days. That can be unviable for some businesses."
She says SMEs can be onboarded to the fully digital platform within 15 minutes, including know-your-customer checks and the signing of legal agreements. "We're really focused on the validity of the piece of paper that is essentially going to be funded – and the viability of the customer that's expected to pay that invoice," she says.
Weedall says Hydr's market research revealed a simple desire among SMEs – and the business is fully focused on fulfilling that wish. "They said: 'I just want to raise an invoice and get paid – and that's it'," she says of the outcome. "This is the gold-plated thing that an SME wants."
The firm has an extended team of 15, made up of the co-founders and subcontractors. It closed a second round of funding in April and expects to raise again next year to fund scaling plans.
"We are actively lending," says Weedall. "We're in the process of turning up the customer acquisition engine: we're learning from every single transaction that goes through our platform. 
"We've taken a very modest growth approach to the first six months and now we're trying to ramp it up."
Macandrew is the founder of headhunting firm Hatton Grange, acquired by Calibre One in 2015. He subsequently spent five years with that organisation, serving as partner and managing partner, before leaving in 2020 prior to founding Hydr.
He is described as the yang to Weedall's yin. "Hector has an amazing network – he's great at the strategy and broader 'where the business is going' stuff; I'm very much the devil in the detail on the operations and day-to-day lending," says Weedall.
"We haven't gone through the process of divvying up who is the CEO – too many businesses get involved in that sort of thing and it just becomes too distracting. We don't need anybody in that position right now. 
"We both know exactly what our role is. We complement each other immensely. We're very yin and yang – there's no point having two people doing the same thing."
Asked on the biggest challenge she has faced in building SMEs, she responds: "Growth. You'll see a number of FinTechs that have popped up and disappeared just as quickly – and growth has been one of the major problems with that. 
"What we've done at Hydr is made sure that we've put the customer at the forefront of everything that we do, so we know that the product that we've delivered is what they want – we're not trying to get the customers to fit the product that we've built."