Transport
Investors
As the founder of a tech business that processes 16 billion data points a day, it's apt that Richard Barlow is connected in every sense of the word.
Wejo has been valued at $800 million and analysts have tipped them to achieve unicorn status in the near future.
In a business that collects data from 11m vehicles every day, it would be easy to think Wejo is just about great tech – but Barlow says the key (pardon the pun) is great communication.
No matter where he is in the world, the CEO has 14 hour-long, one-to-one meetings with his senior staff every week.
He rarely uses recruitment companies, preferring instead to chat to potential hires for up to 18 months before they join the growing Manchester-headquartered company.
He tells TechBlast: "A chairwoman of a company once told me 'time is time' and what she meant by that was there are no shortcuts to certain things."
For example, before the game-changing moment in 2018 when General Motors took a 35% stake in Wejo, Barlow had visited the East Coast of the US 43 times.
"Only time will help you build a relationship," he says. "General Motors was already a client of Wejo and there was a meeting of minds. When we did the deal it wasn't a competitive process and we agreed the terms on a napkin in Detroit!"
Formula 1 inspiration
The idea for Wejo – which comes from the words 'we' and 'journey' – was sparked by Barlow's passion for motor racing and Formula 1, where data is routinely collected to improve performance.
He realised if the connected data technology in motor racing could transition into the mainstream automotive sector he would have a business – and so Wejo was launched in 2014.
"The majority of new cars sold in the world – and most people don't know this – have telemetry in the car," he explains. "Your average car has 200 sensors now. The motor manufacturers don't have a platform to send the data to and that's where Wejo comes in.
"We built a platform and now an average of 11m vehicles send us live data every day. We see 7% of all vehicles moving around New York and 20% of all vehicles around Detroit in near real-time.
"Subject to consent, we know the radio station being listened to. We know the temperature of the engine. We know the suspension data."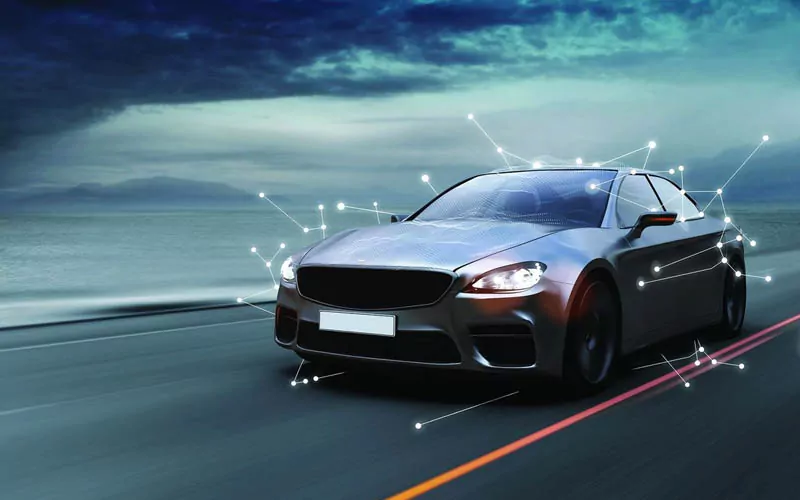 Wejo is now a global name but Barlow admits it wasn't like that at the start when he was struggling to get the world to take notice of his disruptive startup. It took three years to secure its first OEM (original equipment manufacturer) contract.
"That's why the General Motors deal was such a key milestone for us," says Barlow. "GM invested $25m in but the really important thing is they're still the largest provider of cars with connectivity built-in. It was a real turning point and now we work with 17 OEMs and tier one brands.
"Wejo has this mantra 'data for good'. We're not here to sell data to the highest bidder. There has to be consent from the driver. We are tackling real-world problems like road safety and reducing emissions."
Top talent
One of the keys to Wejo's success has been its ability to make big hires, evidenced by the appointment of former Betfred heavyweight Barry Nightingale as CFO to help raise $42m.
Nightingale has since been succeeded by New York-based John Maxwell while other big hires have included Craig Smith as EVP sales, based in Chicago, and ex-Renault man Benoit Joly as EVP automotive & mobility, based in France.
"Barry and I were talking for a year-and-a-half before he joined us," says Barlow. "Ultimately, for someone like Barry to join us he's got to be able to understand the business from day one.
"We have no blueprint because we are breaking new ground every year. My job now is to talk to people so they understand our business and that takes time. It's all about communication.
"Broadly speaking, at Wejo we don't work with recruitment companies. There are always exceptions to the rule but we want to spend the time with senior recruits. We call it 'team Wejo'. Everybody is part of the family. It takes time."
Barlow is regularly approached by people on LinkedIn. "This week I've had about four approaches on LinkedIn who could be a senior manager for Wejo in the future," he says. "I know the vacancies I'd like to fill over the next two years.
"I know the time it takes. It's about building a network. We have a team of eight people in recruitment and we'll consider people in multiple roles. It's important to remember that the onboarding is not in the first week, it's every week."
Future plans
It's this obsession with communication that leads to Barlow's weekly meetings with his senior managers.
"I do it to make sure we have good communications and that the senior hires and senior managers have an open channel to me," he says.
"My only job now is strategy and resource planning to make sure we get great people and develop a strategy that we stick to.
"We have a very detailed operating model. We'll have 70 people in Japan by the middle of next year but you won't see a revenue benefit until Q3 or Q4 next year. That's a significant investment."
Earlier this year Wejo announced a high-profile deal with Virtuoso Acquisition Corp to go public through a reverse merger that valued Wejo at $800m.
However a lesser-known fact about the company is that before GM came on board, Wejo raised its first $50m from mainly 150 high-net-worth individuals.
"Having good communications is about updating the investors even when you've missed a target so they'll still support you," he says. "Just have open communication."
A few months ago Wejo announced significant partnerships with Microsoft, Palantir and Sompo Holdings – and Barlow is forecasting  the company will be profitable by early 2024.
"By 2030 there will be 600m cars that need connectivity," he said. "Our plan is to be the leading global platform that takes all the live data from all vehicles. The opportunities are enormous."