EdTech
Investors
Dr Marilyn Comrie OBE dreams that The Blair Project will one day become a 'black unicorn' – but claims a lack of investment into black, Asian and ethnic minority-owned businesses is making the job a lot harder.
The Manchester-based social enterprise focuses on getting young people from diverse backgrounds into STEM through motorsport. It was founded by her son and CEO Nile Henry when he was 18.
Inspired by his younger brother Blair, who dreamed of becoming a racing driver, the initiative attracted international headlines when Prince Harry paid it a visit in 2016.
However the brothers' proud mum Dr Comrie, who is the director for business development at The Blair Project, said its growth ambitions are being stifled by a lack of UK investment.
"If you're a black female entrepreneur it's very hard to get investment," she says. "0.02% of businesses like ours have ever received Series A funding.
"For black and Asian entrepreneurs, the figure is only 0.5% as a whole. It's virtually impossible to grow your business.
"Money and investment is like the water for growing the seeds of your talent and business. We can't raise the seed funding from family and friends because our communities are more impoverished so they don't have savings they can put into your business.
"That's why entrepreneurs like me have had to go down the route of setting up social enterprises.
"We are the only organisation in the world doing what we're doing – converting petrol go-karts into electric go-karts.
"We've been approached by American investors but we'd have to relocate to Silicon Valley because they want to share resources.
"It would be great if we could become a unicorn in Greater Manchester, but there is no investment being targeted at black, Asian and ethnic minority businesses to enable them to grow."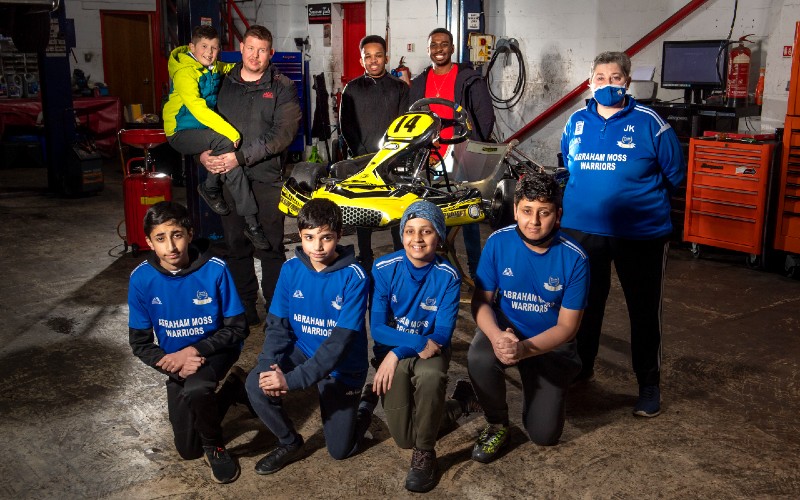 Dr Comrie is an award-winning serial social entrepreneur, green tech innovator, STEM ambassador and board member of the Greater Manchester Local Enterprise Partnership.
She is a former BBC TV series producer and is the principal founder of the Black United Representation Network (BURN), which exists to tackle racial inequalities in Greater Manchester.
She is also the CEO of the new £4m Manchester Innovation Activities Hub (MIAH) at Manchester Science Park,  which will de-risk green tech innovations to accelerate clean growth through the upskilling of local residents into hard-to-fill occupations.
Dr Comrie adds: "We've had to climb a mountain. We've discovered if you're black, people don't expect to pay you for your services. They expect you to deliver stuff for free.
"I have a chemistry degree and worked at the BBC for 17 years. I haven't yet mastered the art of living on fresh air. I'm educating public and private sectors to begin to part with their money if we're going to level up and tackle inequality."