Retail
M&A
As any exited founder will tell you, selling a business is far from a straightforward process.
André Hordagoda and co-founder Aman Khurana did not take any chances during the takeover of their live video shopping platform Go Instore by US brand Emplifi for an undisclosed amount last year.
"We employed the best lawyers we could get and the best broker. We did the whole thing in about five months – so it went really smoothly. That was down to having good lawyers and good brokers," Hordagoda tells TechBlast.
Go Instore, founded in 2014, provides live video technology for retail brands, connecting online customers with in-store staff within 10 seconds – and leading to bricks-and-mortar levels of sales conversion. The London company's technology saw M&S achieve a whopping 35% online conversion rate, while it counts Currys, Pandora, Samsung and HP among its customers. 
Prior to the deal, Go Instore had grown with just $1.5 million of angel investment and bootstrapping.
"We were one of three pioneers leading this technology across the world… then when you cross the chasm, suddenly every man and his dog is claiming they can do the same thing!" laughs Hordagoda, who is co-CEO with Khurana.
"We knew that this market consolidation period was coming where you start eroding on price. We had two options: take on a whole bunch of money and go from being this one-shot wonder point solution – one-to-one video – and turn ourselves into a platform; or we absorb it to another company which gives us that platform status. 
"We went for the latter, which to be honest is a far quicker way of doing things."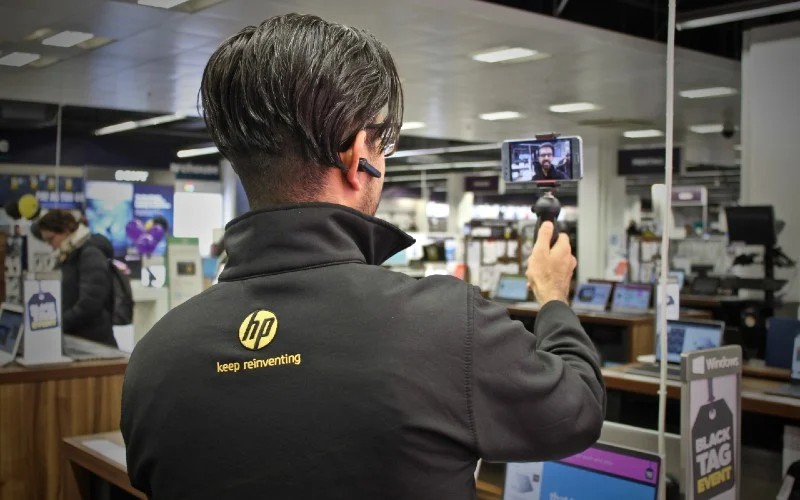 Joining Emplifi
Emplifi is a global provider of SaaS-based, omnichannel consumer experience software backed by Audax Private Equity. The company has 750 staff and works with brands such as Delta, Ford and McDonalds among a 7,000-strong customer base. 
"We continued with the message that we were looking to raise, but secretly we were also looking at a potential exit and doing all the prep work for that. Then we 'found' Emplifi – and that was a really solid fit for us," explains Hordagoda, who adds that they deliberately played hard-to-get – saying they weren't interested in selling – to avoid devaluing the company.
"When you put a 'for sale' sign up, your valuation goes down!" he says. "Then when Emplifi did their due diligence, they looked at our culture and they loved it. They were like, 'how do we translate this into the wider organisation?'"
Young ambition
Prior to Go Instore – fourth in our sister publication BusinessCloud's RetailTech 50 ranking this year – Hordagoda held senior roles at large enterprise companies such as Experian and Smart Focus, as well as working closely with early growth-stage businesses.
"I had the ambition from an early age to become an entrepreneur," he says. "I remember having a chat with an uncle and I thought: well, I can either work really, really hard at college and try and become a lawyer or doctor – or I can take a much easier route and do sales and then start a business!"
He adds: "I think the most important factor for any entrepreneur – and it sounds really cheesy, but it's so true – is sometimes the idea doesn't even matter. It's got to be reasonable – but the most important thing is self-belief. 
"I'm lucky enough to have a co-founder. We never really had mentors who we could pick up the phone to when we were having a s*** day; you've just got to believe it's going to happen. That belief has to be unwavering."
Hordagoda is also realising two personal ambitions following the deal. "I'm learning to fly helicopters… and I've found a plot of land to build my own house!"