PropTech
Investors
New markets
Star of the Week
When business founders describe a pivot, the change in direction – for example with a product or sales strategy – is often more of a tangent than a complete '180'.
Not so Dan Bladen, who saw his London-founded wireless charging business Chargifi grind to a halt not long after moving out to the US in November 2019.
"I had moved my wife and three young kids out to the Bay Area: we had investors here, we were growing our wireless charging business here, and I wanted to be close to some of our board members that were here," he tells TechBlast.
"Our wireless charging products were mainly focused on offices: we had wireless charging on the desks and in meeting rooms and then when you put your phone on the desk, it would connect you to the network or check you into that meeting room or automatically launch your Zoom call. 
"When the whole world went into pandemic, nobody cared about wireless charging very, very quickly – particularly in offices – and our sales were put back indefinitely. We had people cancelling orders in the thousands of chargers on us. 
"We were like, 'do we have to go back to the UK? How long will we be locked into the US?' We had no idea at the time that home schooling would last for 14 months for us here in Cupertino…"
Tough decisions
Bladen, who founded Chargifi in 2013 after he and wife Jessica constantly ran out of power for their devices while travelling the world, had some tough decisions to make.
"We had 30 people at the time. We had to let six or seven of them go, which is something you never really want to do – especially over Zoom," he concedes. "Deep down, I knew that we had a product people wanted, and we were fortunate enough to go into the pandemic with a fair amount of runway.
"But we realised that we wouldn't be able to show the traction that we needed from wireless charging growth before our next round of investment. So we needed to buy more time."
Existing customers such as Accenture and Hewlett Packard Enterprise wanted to know whether the wireless chargers on their desks could be used to manage flexible desking, says Bladen.
"The team responded. We spent about a quarter of a million dollars developing a 'light ring', which was essentially a wireless charger with a bunch of lights in it to show whether a desk was clean, engaged or booked. 
"Now that all of our customers were moving to flexi-desking rather than dedicated desks, this was going to be a product that unleashed our entire sales again – but little did we know at the time that people wouldn't be in offices anywhere near like they used to be."
Scheduling software
The demand from customers for integration into existing scheduling software such as Outlook and Google Calendar ultimately led to a more complete pivot.
"We went to our partners to begin the process of integrating our product with them. They all said 'yes, we love this – but you're going to need to get to the back of our product roadmap'," explains Bladen.
"So for two or three months during the summer of 2020, our entire sales pipeline – now this new light ring product – was beholden upon a product manager at a partner integrating us before we could unlock any sales."
Former WeWork executive Shaun Ritchie, founder of workplace experience platform Teem before its $150 million-plus acquisition by the co-working giant in 2018, had joined as a board advisor. 
"He and my VP of sales texted me, both on the same day, and said 'hey, I've got an idea'. We jumped on the call and all shared the same idea: we've already pivoted to light rings, how hard can it be to develop our own scheduling software?" says Bladen.
"We pivoted hard and made sure that we could bring the sales more under our control. The board said 'great, go for it – if anything, if you make this pivot, you become much more acquirable if you have to do a fire sale'."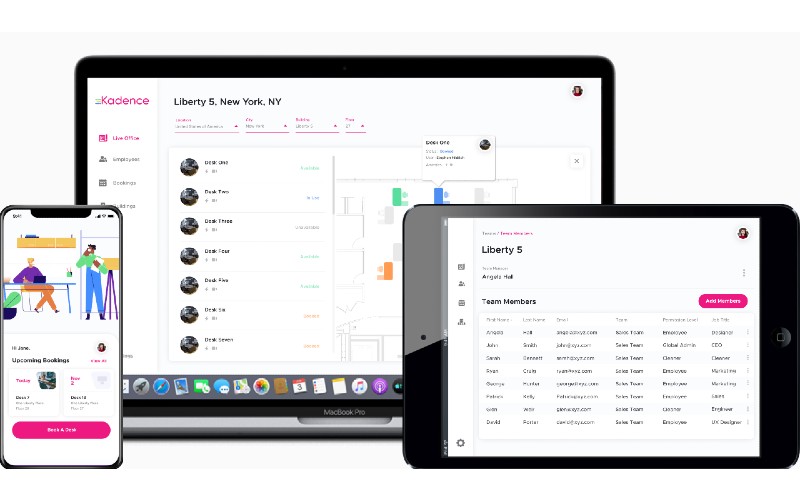 Chargifi – which would not rebrand to Kadence until October 2021 – doubled its product and engineering team within the space of two months to get a minimum viable product out before Christmas 2020. 
"We designed the scheduling software in such a way that users would think that it was like using Airbnb and not another business app," says Bladen.
"As it began to take off, we realised we could not run a wireless charging hardware business alongside it and so decided to indefinitely pause all of our wireless charging activity. Little did we realise that there was also going to be a global silicone shortage! So we were like: 'Let's not fight this battle.'
"As a founder of a deep tech company, feeling the product-market fit of a SaaS product like this [compared with the former hardware offering] is just night and day. It's so exciting – we'd wake up every morning with an inbox full of leads from HubSpot."
You can read about the functionality behind the platform – including a gif of it in action – at the BusinessCloud link below.
As well as California's Bay Area, Kadence has teams in London, Belfast and Salt Lake City, alongside remote-based employees. As such, it is very much an early adopter of its own app.
Bladen says entrepreneurs must back themselves when it comes to making tough decisions.
"My dad says: 'There's always a way.' Whether you can't see one or not, there is always something you can do in order to affect the outcome," he says.
"A lot of entrepreneurs look to others to give them validation, whereas very often it's actually the founders that have far more information on the business. They have the ability like anybody else to make the final call. Take all the advice you can, get all the wisdom you can – but at the end of the day, back yourself and make decisions that you're comfortable with."