Succession needn't be as dramatic as the HBO series of the same name – providing you're prepared.
That was the conclusion of a roundtable discussion held by leading advisory firm MHA Moore & Smalley.
The discussion was hosted in the newly-opened UA92 Business School in Salford.
Perseverance
Somayeh Taheri is the CEO and founder of P2P green energy exchange platform Urban Chain, which is opening up green sustainable energy to new markets.
The Manchester-based company is set to float within five years and Taheri said perseverance and employing like-minded people is the key to succession.
"For us it's not about skill, knowledge and anything like that, it's about mindset. It's also about excellence of customer service," she said.  "The interview process for major roles is quite lengthy. It's not about one or two interviews but a month's interaction."
Outside expertise
Jonathan Rothwell is the CEO of D55, one of the UK's leading AWS consultancy partners, and he highlighted the appointment of Ian Kelly as chairman.
"When I think about succession it is all about having the right skills in the business for today but also for tomorrow's challenges," he said.
"We brought in Ian Kelly as a chairman and he's helped us think about the future plan and the big building blocks we need to be able to grow the business.
"Ian is more focused on helping shape D55 into a well-run business that can scale and attract investment.
"As founders we know what we know but we've not been on that journey before. It's crucial to bring the right expertise to your board.
"We actually talked to quite a few people in that chairman space and the cultural alignment with Ian was the thing that attracted us to him.
"His vision for the business pushed our thinking into different areas.  He encouraged us to think a lot bigger than our ambition was. That's been really refreshing."
Plan early
Rob Richardson is a partner in corporate finance at MHA Moore & Smalley and said the key to succession is starting with the end in mind.
"Start planning for what that exit looks like and what's the most likely exit route," he explained. "In doing that you can write your business plan four or five years before you start in terms of growth and where you want to get to.
"More importantly, think about the people that you need to support you on that journey and how you're going to tie them in. Are they part of the succession? Do they take it on in the form of an MBO or do they enable you to step back and sell it to PE, trade or whatever else?"
Letting go
Russell Teale is the founder and CEO of tech-for-good platform Vivify. Founded in 2020, Vivify helps schools hire out facilities outside teaching hours.
He said: "We've all been given good and bad advice. Some people said to be me that as a founder it's going to be really hard to let go one day. It's very personal, it's your business.
"One of the bad pieces of advice someone gave me, which I didn't take, was prepare to be consistently let down by people in the sense they can't meet your standards because they are a founder. Part of succession is to let go."
Diversity
Sarah Prowse is the chief executive of UA92 and highlighted vision and diversity as two top priorities.
"You've got to know what your vision is because that determines how you build your team," she said.
"For me, one of the keys is building a team in the wider sense of diversity. Age, ethnicity, gender, skillset, mindset, ability, at the board level, at the C-suite level, within the team. That's something we're very passionate about at UA92, both in the staff base and the student base.
"One of our missions is to provide a pipeline of talent for our business partners but, equally, I take that talent myself. I'm a business for the university."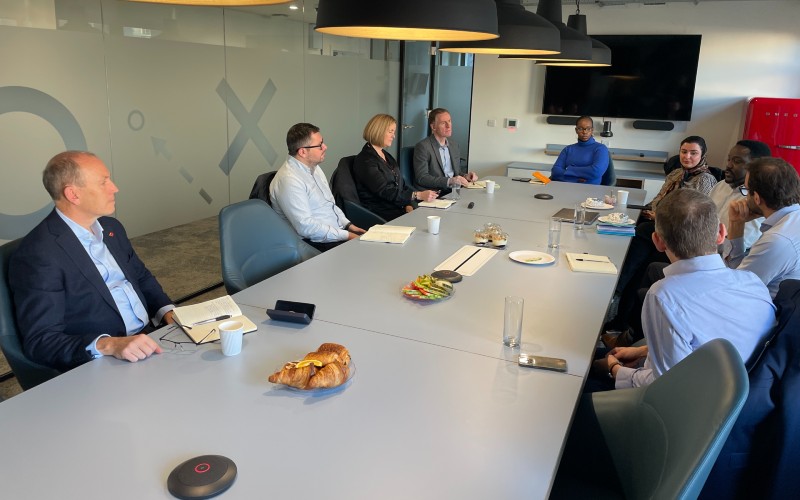 Wisdom to adapt
Ayan Mohamed is the founder of data automation specialist Digitech Oasis.
She said: "The key to succession for me is the wisdom to adapt. Agility took me a lot further. If I wasn't very agile or creative in the way we run our operations, I don't think we would be where we are.
"One example would be when I was in Kenya I saw a pitching competition in South Africa to win $25,000. The prize money was to take it to an R&D centre to build out the last phase of our product. We booked a flight for about $400 and won."
Prepare your people
Andrew Gibbons is the managing director of insurance broker Mason Owen Financial Services, which was bought in an MBO in 2022.
He said: "When we did the MBO the two things we didn't know were about corporate finance and business exit. We got a guy in called Mark Worsley as our non-executive director because he'd been there, done that and got the t-shirt.
"We needed operational financial advice in terms of how effectively we prepare the business for whatever the exit looks like.
"That exit has to be planned from the day that you start. I don't want our colleagues thinking we're planning to exit anytime soon because that's not what I mean.  It's about making sure the business is as healthy as possible.
"I didn't get into this business to see what I could get out of it. The challenge I've always had personally is to pay the 38 mortgages that rely on this business. There has to be a future for the business when we've left it.
"The value of what we do as a business is actually the people that we employ. If we haven't prepared the people right for the time we do exit, it will affect the value of whatever we exit with. That's why we took the decision as an insurance broker to become chartered."
Knowledge transfer
Kai Ojo is the CEO of global software solutions provider Planisware UK, based in MediaCityUK, and said spotting the best talent was crucial.
"The key for succession for us is around knowledge transfer," he said. "We need to identify key people in the business.
"They bring skills and experience but what makes them valuable to the business is the knowledge equity they build while they're in the business and how they transform their own experience into something that works for Plansiware.
"That is what we don't want to lose. We can always get people with the right skills and right experience into the business but not the knowledge of how we do what we do.
"We need to have a plan for these people to progress into these senior roles to make sure we're protecting the future of the business otherwise we'll end up with an attrition that means we're bringing in people who we constantly have to build up their knowledge, which is a very expensive exercise for us."
What's next?
Sean Mitchell is a tax partner at MHA Moore & Smalley and said people need to think about what they do after an exit.
"Have a plan and a strategy in place for when that ultimate succession happens," he said. "You spend 40, 50, 60+ hours per week running your own businesses. When that ceases and someone else is doing that, what's next? That's both personally and financially. It's never too soon to start planning for that personal succession so don't neglect that side."