MedTech
A key cog in Apple's design team for 27 years, Daniele De Iuliis has quite the pedigree.
The Briton was at the coalface as co-founder Steve Jobs returned to take the company from the brink of collapse to the worldwide phenomenon we know today.
De Iuliis, now the design director at one of the UK's most exciting MedTech startups, was not a close friend of the late Jobs but liaised with him daily as his small team developed the iMac, iPod, iPhone, iPad, MacBook and Apple Watch.
"Steve would come into the design studio regularly, sometimes more than once a day, because he cared about what we were doing," he says of his time in Cupertino. "No detail was too small. He made the time for our team because he thought it was important to the success of the company. 
"His ambitions were bigger than any of us could have imagined and he pushed us to do some of the best work of our lives, surpassing maybe what we and the rest of the world thought Apple could achieve.
"We all secretly like to think we could do something good – but somebody like Steve pulls these amazing feats out of you as a team. In retrospect it's even more special because you realise there aren't many people like that in the world."
New challenge
De Iuliis made the difficult decision to retire from Apple in 2019 and, 18 months later, would join Occuity following a reunion with schoolfriend and serial entrepreneur Mark Jenkins, now the startup's COO.
Based in Reading and founded by CEO Dr Dan Daly and CTO Dr Robin Taylor, Occuity develops devices that aim to detect the early signs of chronic health conditions by scanning the human eye. The first target for its patented contactless optical technology is diabetes, a condition that affects more than 400 million people around the world.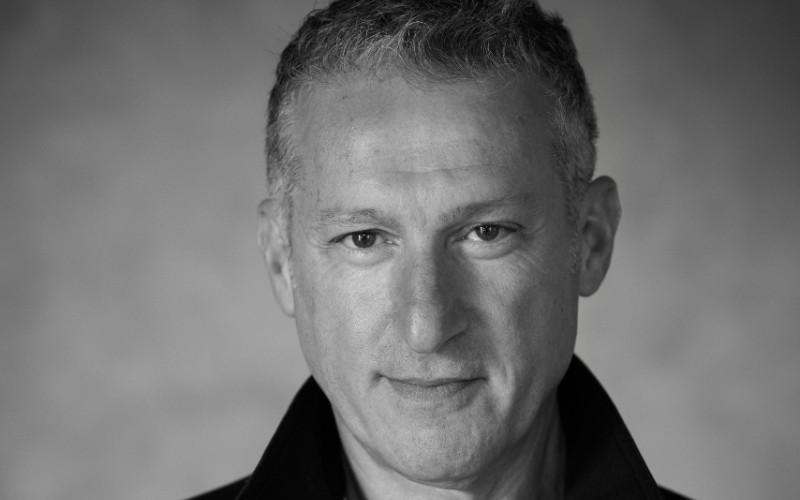 "It's funny but I thought back to a friend of my daughter who, when she was much younger, would have to prick herself before dinner to test her blood sugar," explains De Iuliis (above) in an interview with TechBlast. "It felt really barbaric and unfair that, in the 21st Century, a child should have to do this.
"Fast forward a couple of decades, and here was an opportunity to do something about it. That was really the catalyst for me to join."
Occuity's first device, the PM1 Pachymeter (below), is aimed at the optometry market and measures corneal thickness with micrometre-level precision by shining a low powered beam of light into the eye and analysing the return signals. It provides users – identified as being at risk of glaucoma – with diagnostic information on eye health and other markers to support disease screening and monitoring.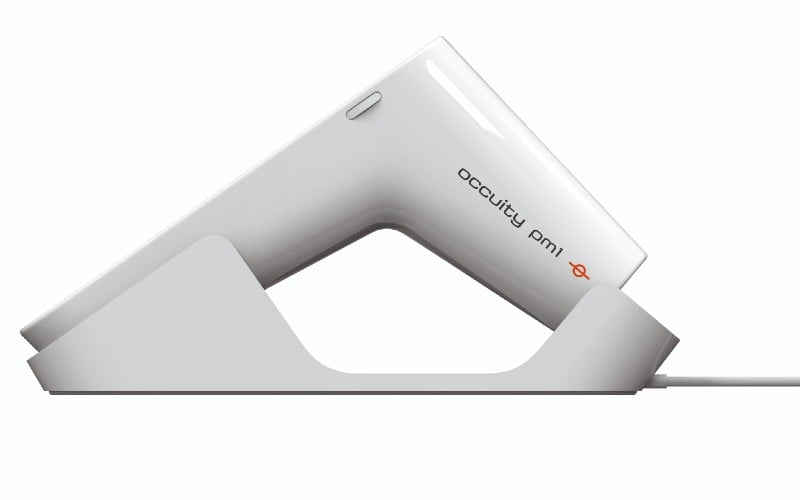 The device is due to begin clinical testing and expected to be approved for use in the EU by early 2022. Occuity also has a letter of intent from the UK's largest optical distributor, which has partnerships with Specsavers, Vision Express and thousands of independent opticians. It then intends to replicate this route to market in the UK in Europe then the United States.
Long-term plans
The company plans to launch a pre-diabetes screening device in 2024 to allow mass testing for the emerging signs of Type 2 diabetes at pharmacies and opticians, while in 2025 it intends to introduce a personal optical glucose monitor enabling people with diabetes to monitor their blood sugar levels without drawing blood.
My own father, for example, has to 'stab' himself – his words, not mine – with a needle every time he gets behind the wheel to check he is safe to drive. "The prevalence of diabetes means we can all connect with this problem through someone that we know. This is the rallying call for me and everyone else on the team," De Iuliis acknowledges.
"There is stigma associated with the invasive devices currently on the market – and there's also pain and discomfort. The non-invasive monitoring device we are developing will be very simple and intuitive to operate: our intention is for it to be a slim, lightweight, pen-like device with a lens that is opened by the touch of a button.
"I imagine myself being in a restaurant, sitting there before a meal and needing to check my blood sugar – so I just pop this thing out. I wanted to create something that was familiar but new."
Design changes
As the device points into the eye, the product expert insisted on getting rid of a physical gun-like trigger to initiate the test. He adds of the design: "We're all used to touch displays so you don't need physical buttons on this thing. These are also dirt traps… by creating just one continuous surface, you have less places for nasty things to hide.
"Also, as it's non-contacting, you don't need to anaesthetise the eye or get rid of any bits and pieces. The lack of a need for consumables makes it kinder to the earth and makes it more cost-effective."
After diabetes, the platform is intended to be used for the early detection of Alzheimer's disease. The demand for these products was reflected in a recent crowdfunding campaign which attracted £2.8 million in funding from 877 investors, a full £1m more than the initial target.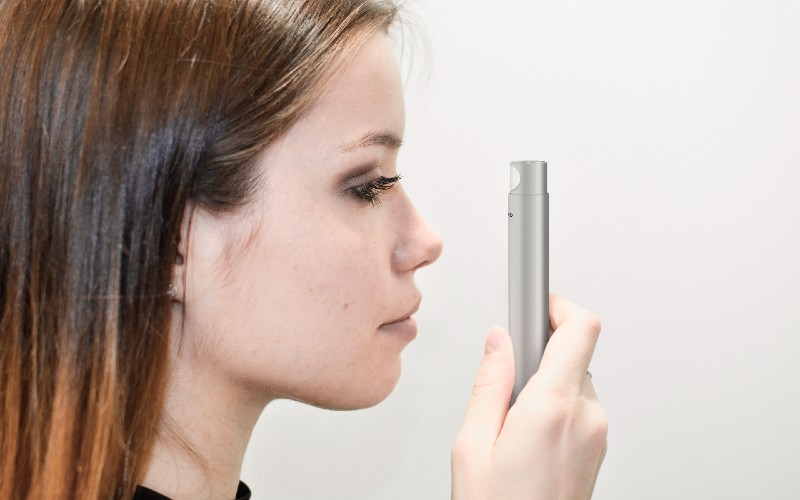 De Iuliis expects the company to IPO or be taken over in a trade sale within five years. The real value is in the team it has put together, he says. "Occuity has quickly assembled 30 of the best and brightest minds from a wide range of fields, from optical engineering to industrial design to medical commerce.
"One of the big lessons I learned at Apple is that you have to surround yourself with amazing people always – and so hiring becomes a really important part of that success story."
The firm's Reading HQ houses a full optical lab and engineering facility which enables it to develop prototypes in-house, removing the need for intricate parts to be produced externally – lowering costs and increasing productivity.
6,000 miles
The design director has only visited the company headquarters once, thanks to COVID-19, but says being based 6,000 miles away has not posed a problem so far.
"Having lived here and worked at Apple for a long time, I've been surrounded by startups and had a whole lot of people pitch to me. Suddenly the tables are turned… it's an education, to put it mildly! 
"It's really exciting and I'm learning a lot. I wouldn't have it any other way. I feel rejuvenated by it."