Transport
Hiring
Investors
If you are reading this as a startup founder with a technical background, Kirk Ryan has a message for you: share the burden.
As technical director of Flare, Ryan has been integral to the growth of the personal safety app used by cyclists and other road users.
Flare – which featured in fourth spot on our sister publication BusinessCloud's TransportTech 50 ranking and recently underwent a rebrand – was launched as Busby in November 2019 by Ryan, commercial director James Duffy, software development director Roger Kadama and operations director Barry Green after the latter was involved in a serious cycling accident. 
Working with the sensors in their smartphone, it can detect if there is a likelihood that a user has been involved in an incident. The app then begins a 30-second countdown: if there is no movement or response from the user, their exact location is sent to emergency contacts, using What3Words, so help can arrive quickly.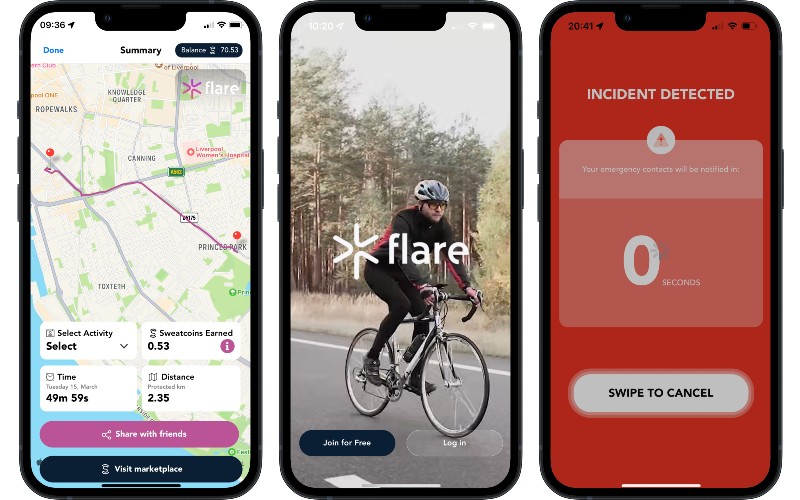 "Early stage entrepreneurs are akin to solopreneurs – you have your skills, you have your bubble and your way of working – and nothing really affects that," Ryan tells TechBlast. 
"But the minute you add the team, it's really interesting to change your mindset from having to solve every problem to sharing the problems with the team… you quickly realise that by sharing those problems, you get them done so much faster. You don't have to own everything yourself. 
"That, to me, was a personal thing to understand, because my background is an engineer: every time I hear an input, I'm working on a solution and an output. 
"I broke that mindset by saying 'this isn't my problem to solve, this is my problem to share' – collaborate on it with the team to get it fixed."
With a four-strong leadership team, the Liverpool-based startup was able to share the overall workload in a complementary fashion.
"Everyone has a different set of skills: there are soft overlaps, but everyone brings something totally unique to the team – whether that's being able to raise capital, keep the lights on, build teams or manage people. It's been great from that perspective," explains Ryan.
"We all get on: there's not been any major fallouts. It's key to make sure that people can work together: we have a hiring philosophy where you're not coming into the business unless we've had a sit-down meal together so we can assess who you are as a person rather than just what's on paper. 
"That seems to have worked very well for us – including with the extended roles of investors and exec directors that have come in to advise. We've had the luxury of not having to take the first offer – we can cherry-pick exactly who we want and we have a plan for how we're going to get the most out of them."
TransportTech 50 – UK's most innovative transport technology creators for 2021
One such high-profile addition was Beverley Bell, who served as senior traffic commissioner for Great Britain for more than five years and now runs a transport consultancy and training business.
"Having someone like her on the board – very well respected, who has put her own money into the business, believes in the vision and the team – is great," says Ryan. "It not only helps us develop a better product, but also insight from different generations.
"That sort of experience helps us to make sure we answer the 'why': is this development going to move the needle, or are we just testing and wasting a lot of time on a totally unvalidated assumption?"
Flare, which has partnered with Deliveroo to help keep its riders safe, is available in several languages and has users in around 130 countries.
It is expanding its focus into more general personal safety: for example, users can now locate their friends and family through the GroupSafe feature and call for community assistance if they ever need help, which alerts other Flare users.
SOS alerts to loved ones – say, on a night out – can also be activated via voice command or gestures, such as a double or triple tap on the back of the user's phone.
The startup recently announced a partnership with TIER, Europe's leading micro-mobility operator, to support the safety of its riders in London and York.
Enhance your safety by downloading the world-leading incident detection app Flare for free! Gain the confidence you deserve just by a simple tap of a button, protecting you from any potential incidents and rewarding you for taking control of your safety. Download today by clicking this link: https://getflare.app/MM1v