Star of the Week
Accelerators
Interviews
Investors
Startups 2.0
The awareness around women-led startups and female-focused investment funds seems to be on the increase.
Just last week, for example, Mercia Asset Management launched a support scheme to help women entrepreneurs finding it difficult to gain access to growth capital.
However those raising startup investment have a personal take on the landscape which may not tally with the story told to the media.
Eleanor Harry has just raised seed funding for HACE, which she founded in 2020 to tackle the worldwide problem of child labour in company supply chains. She describes the experience as the biggest challenge she has faced to date.
"Investment teams are predominantly men, especially traditional investment funds such as VC and CVC (corporate venture capital), so there always seems to be an implicit disadvantage and inbuilt bias against female founders," she tells TechBlast.
"There are specific female-focused funds in the investment landscape, but they typically invest in smaller ticket sizes which can seem tokenistic if larger tickets are still being given to men, by men. 
"The investment rounds can feel like a minefield without women investors present in screening startups. I mostly tend to get questions about risk rather than opportunity, which I don't see replicated for men-owned startups."
Harry has worked to tackle child labour for over a decade across supply chains including cotton, fishing and ready-made garments. A contributor to international UN literature on child labour, she also sits on the UN's UK Global Compact Child Labour Working Group. 
She founded HACE: Data Changing Child Labour with the aim of empowering businesses to make timely and data-driven decisions to proactively tackle this disturbing problem. Child labour affects one in 10 children worldwide – an astonishing 160 million of them – yet she says companies and investors remain unconvinced of the urgent need to address the issue.
"Funds may not have a deep understanding of the ESG field," she continues. "So being a female founder of an ESG startup, you are hit with a double-whammy scenario of investors exercising caution due to inbuilt bias in the investment landscape and investors not willing to invest in 'risky' areas such as ESG."
Designed for financial institutions, the startup's Child Labour Index, powered by artificial intelligence, scores companies on three aspects: Public Perception, Company Disclosure and Risk.
Harry says that coming from a non-technical background meant she was "on an uphill battle to transfer my knowledge". 
"I spent months studying, hiring volunteers to help, bringing on advisory teams, developing data pipelines," she reflects. "I designed an entire methodology on how to standardise our approach that we still use today. 
"After a year of work, we had our first big breakthrough when we were named as the Top 5 Global SME working on anti-slavery efforts by Thomson Reuters Foundation."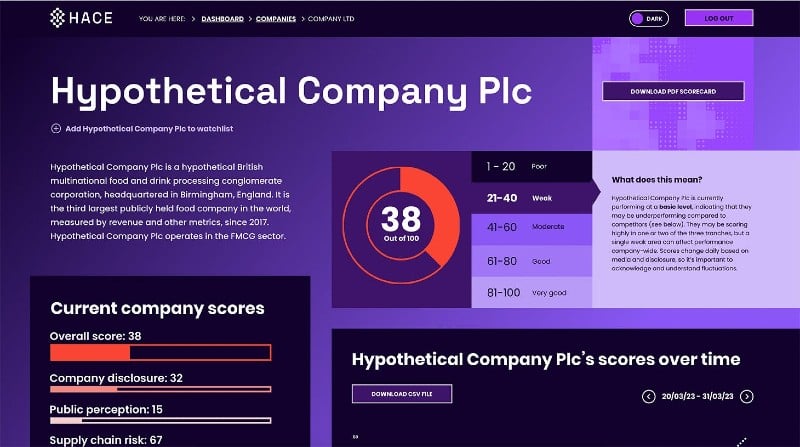 HACE is currently working in Bonded Warehouse in central Manchester under Department's Exchange Accelerator. It has benefited from the support of NatWest, Greater Manchester AI Foundry, Equal Experts, Innovate UK and various other Manchester-based organisations, says Harry. 
"We're supported by both KPMG UK and KPMG Acceleris within our funding round which allows us access to invaluable resources, expertise and networks within Manchester and the North West," she adds. 
HACE was recently featured in our sister publication TechBlast's Manchester Startups 2.0 list. Harry highlights the work of female support networks in the city.
"While women in data and technology are still systemically underrepresented, the network of women in the sector that we have curated at HACE is extensive, much of which is based in Manchester and the surrounding areas," she says. 
"However, this success is largely due to the tireless work of individuals advocating for women in their spare time – such as Fund Her North and Her+ Data – or organisations who have some extra budget, rather than something that has organically grown through the system. 
"This is especially obvious when you're a woman trying to raise funding in the North – a task that is already statistically unlikely as a woman anywhere in the world."