Star of the Week
IPO
Manufacturing
Ahrum Pak seemingly had it all.
Born in Hawaii to Korean parents, she spent most of her childhood in California and would go on to build a successful career in investment banking, advising on stock market flotations around the world.
However, there was something lacking. "I had worked across the US, Europe and Asia, bringing IPOs to life – mostly healthcare companies in the midst of COVID! – and advising InsurTech projects," she tells TechBlast.
"During peak lockdown, I was disillusioned… I wanted, instead, to build a purpose-led startup. I had reached a point in my career where I wanted to shift focus to topics closer to my heart, specifically food and fermentation. 
"We always had a special relationship with food in the Pak household. My mom really made me think about where our food came from, why we don't waste, and why we ferment certain foods – gut health, deliciousness, preservation.
"I must have contacted more than 100 people within my network and friends of friends. Even friends of friends of friends! I wanted to talk to like-minded people with interesting, impactful ideas, and to see how I could help bring them to life."
A mutual friend put her on to the work of material scientist Dr Johnny Drain, who would soon become her co-founder at FoodTech startup WNWN Food Labs. "I slid into his DMs on Instagram. We clicked straight away and within six months of our first chat we'd registered the company," she recalls. 
"We'd not even met in person at that stage as I'd been living in the Canaries and he was in Paraguay opening a restaurant!
"While I was doing an MBA at INSEAD [earlier in my career], there was this concept that businesses can be a force for good, and that really stuck with me. I never really planned to become an entrepreneur.
"But the more I critically looked at our global food systems and our relationship with consumption, the more convinced I became that change has to start with the individual. So I took the plunge."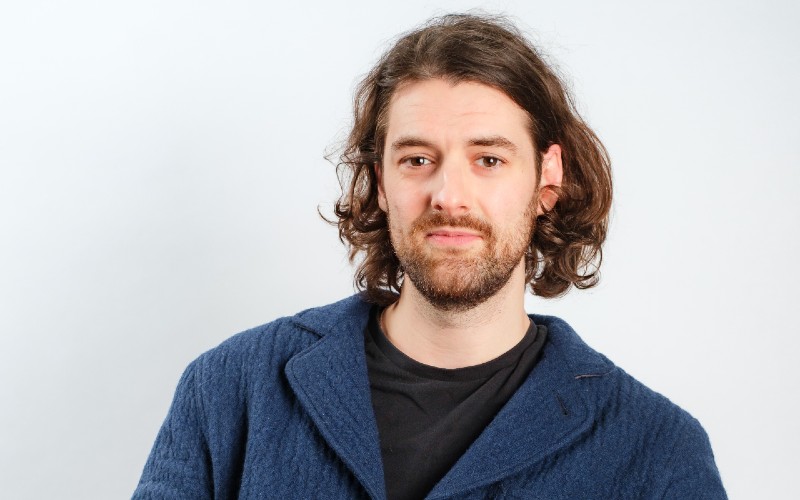 Dr Drain (above) is a scientist who has worked at the cutting-edge of food, fermentation, design and sustainability for several years. Having earned a PhD in Materials Science from the University of Oxford, his clients and collaborators have included leading restaurants, bars and food brands including Nordic Food Lab – the open source laboratory founded by Rene Redzepi of restaurant Noma – 3-Michelin-starred Mirazur, the Argentinian Ministry of Agriculture and Channel 4's Food Unwrapped.
In 2018, working with zero-waste chef pioneer Douglas McMaster of Silo and drinks guru Mr Lyan, he set up the Cub Cave in London – an R&D space that develops innovative techniques to turn food waste and by-products into delicious things to eat and drink, and to help food brands embrace the circular economy and closed-loop systems.
Wider impact
"Having worked a lot with fine-dining restaurants in recent years, where my innovations around sustainability and food might reach 50 or 100 diners a night, I wanted to do something with a larger impact and so a FoodTech startup seemed the natural way to do that," he explains to us.
"I grew up within a few miles of the Cadbury factory in Birmingham and went to art college in Bournville itself: the smell of chocolate wafted through the ether as we crossed the road between the fine art department and the sculpture studios. So perhaps ending up working with chocolate had always been my fate!"
Chocolate is a $90 billion industry dominated by North American and European countries, especially around Christmas. However more than half of its key ingredient is produced by just two African nations: the Ivory Coast and Ghana.
Sadly, millions of people are involved in child and slave labour there. The Make Chocolate Fair campaign highlights how growing cacao is hard manual work and very labour intensive as caring for and harvesting the beans requires close and continuous attention.
WNWN is looking to provide consumers with an alternative ethical and sustainable choice via its cacao-free, plant-based chocolate.
Dr Drain believes he has created a product which tastes, melts, snaps and even bakes like the original – despite being vegan, lower in sugar, producing 80% fewer CO2 emissions and free of palm oil.
Based in London, WNWN – pronounced 'Win-Win' – raised $1m funding last year and currently employs four people full-time and four part-time.
"We wanted to start a company to help improve our broken food system. As we learned more about chocolate, we found much of the world's chocolate has a very dark side that most consumers are completely unaware of," says Pak.
It is already planning alternatives for other unethical, unsustainable products including coffee, vanilla and tea. 
"We've recently had our first birthday – celebrated in typical WNWN-style with a video call! – and the evolution has been incredible," continues Pak. 
"In those 12 months we've gone from the first idea, a question really – is it even possible to make cacao-free chocolate that's delicious and believable? – to where we are now: the first company in the world to have launched a cacao-free choc for consumers to buy. 
"That went live on 18th May and sold out in less than 24 hours! The team is growing quickly and people are taking notice of what we're doing."
Brexit & COVID challenges
Asked for the biggest challenge they have faced to date, Pak answers: "As an entrepreneur, especially at the start, you have to apply yourself to lots of different tasks, many of which you have little experience in. That's fun, but challenging, and there's a lot of switching between different cognitive tasks, which is draining. 
"Against the backdrop of Brexit and COVID, arguably the biggest challenge has been supply chain issues. Shipments not arriving to us, or samples being sent out and getting stuck in customs for two weeks in Germany! That's definitely the stuff we've lost the most sleep over."