Star of the Week
Accelerators
HealthTech
Interviews
Investors
New markets
With eCommerce marketplace launches for JustEat, YOOX Net-a-Porter Group, Gianni Versace and Conde Nast's style.com behind him, Richie Dawes boasts an impressive CV.
Yet the COVID-19 pandemic found the technology consultant taking stock of his career. "I witnessed the challenges first-hand, and reflected on my achievements," Dawes tells TechBlast.
"Moving from retail to health was driven by a combination of circumstances and a desire to make a meaningful impact in a different industry."
In January 2020 he accepted the role of CTO of mental healthcare company Clinical Partners and spent three years building its full-stack virtual care technology.
"With the autonomy given by the CEO, I assembled a team of developers, designers and product owners and successfully developed and launched a telemedicine platform, significantly increasing the clinic's revenue by 3X in the first six months," he explains.
"The experience reinforced the importance of leveraging technology to improve access to healthcare, inspiring me to continue driving positive change in this sector."
Nolea Health
He would go on to found Nolea Health, a healthcare jobs marketplace platform, in 2022, although the platform was already in development.
The startup matches mental healthcare clinicians with vacant jobs across healthcare organisations and health systems. Its algorithm utilises the clinician's profile data, such as experience, education and work preferences, with employers' job requirements, location, and work culture, to increase the likelihood of successful matches and hires for short-term work opportunities.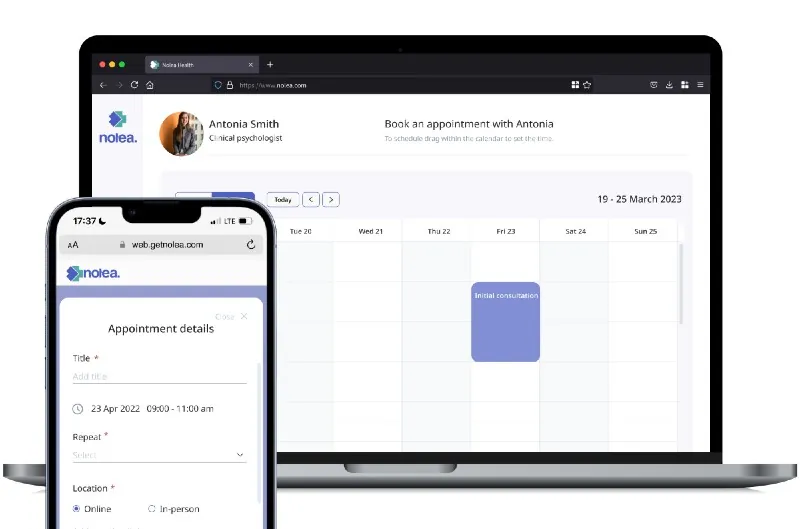 "The healthcare industry is facing a critical workforce shortage, which directly impacts patient care and staff experiences," says Dawes. "Across Europe, 64% of countries are grappling with a shortage of healthcare professionals, and by 2030, it is projected that there could be a deficit of 9.9 million doctors, nurses, and clinicians.
"The United Kingdom, our launch market, is experiencing workforce shortages, with over 110,000 unfilled posts reported in Q1 2022. The demand for mental healthcare support is growing, with millions of adults and children in England requiring assistance for various mental health difficulties."
Pivot
Still in beta, the public launch of Nolea Health was in March 2023. "We pivoted to better address the key challenges in the healthcare industry," Dawes acknowledges. "Initially, we aimed to solve the problem of manual verification and credentialing in the healthcare sector, causing bottlenecks and costing the industry significant time and financial resources.
"However, as we delved deeper into the healthcare landscape, we realised that UK healthcare companies' primary pain point was finding the right healthcare professionals for verification. This became the critical problem we needed to address… [so] we transitioned to a white-labelled clinician platform, where credentialing became a feature within the marketplace."
After launching with a few initial customers, Dawes and his team further recognised that its value extended beyond simply finding and verifying candidates. "We understood that there was a need to create a fully two-sided marketplace, empowering clinicians and employers to connect directly.
"This pivot allowed us to better align our platform with clinicians' and employers' needs and preferences while also providing a more comprehensive and valuable service."
Investment
Nolea Health has made significant strides in the last 12 months, receiving its first investment cheque through ODX, the On Deck Global Accelerator program in January 2022 and participating in the Google Black Founder Fund program last summer. The company received non-dilutive cash grants, Google Cloud credits, and hands-on support.
It recently raised £1 million in seed funding led by Frontline Ventures, with participation from Calm/Storm Ventures and other notable industry figures, including Anne Heraty, ex-CEO of CPL Resources, and Mahiben Maruthappu, CEO of Cera.
"I approached fundraising with precision, treating it as a well-planned project," says Dawes. "Despite the focused approach, an unexpected turn occurred when our lead investor, William Mcquillan, came through a cold outreach on LinkedIn that I initiated. 
"I targeted Frontline as a potential investor due to their marketplace experience and focus on bridging the gap for companies expanding between the UK and the EU.
"I sought industry experts who believed in me as a founder and understood and supported my vision. It was essential to find investors who appreciated my perspective on the future and could help bridge the gap between our current state and the milestones necessary for growth and success."
Ukraine
The company operates a hybrid working model with a HQ in White City, London. Its nine team members include COO Julia Katz; sales director Charlie Sefton; product and design lead Kristina Bikarska; lead test engineer Sacha Mannion; and a technology team of 4 developers based in Kyiv, Ukraine, from partner Intelliceed Software.
"We faced challenges due to the war in Ukraine," continues Dawes. "The ongoing difficult situation and frequent blackouts impacted the development timeline. Despite these obstacles, Nolea remained committed to supporting the team.
"We understood the importance of providing employment and stability for our team members during such challenging times. We ensured that our support extended beyond the project itself, demonstrating solidarity and empathy for the team as they faced the effects of the war."
The startup aims to expand its reliable job marketplace beyond mental healthcare to address workforce planning challenges and staff shortages in other areas of healthcare.
"We targeted mental health as our initial focus due to its significant growth and the pressing need for solutions," says Dawes. "However, our primary aim is to address all healthcare staffing shortage problems through our jobs marketplace platform… driving positive impact across the industry."
Cohort of 10 black digital entertainment entrepreneurs revealed