MedTech
Investors
When is the right time to release a product?
It's a tricky balance to get right: deploying too early could be a recipe for disaster, while delays can lead to a loss of momentum and faith from potential customers.
Gavin Delaney brought a background in early-stage businesses and tech transfer into the NHS from the private sector when he became CEO of hospital tech startup Hy-genie just weeks before COVID-19 hit.
The Liverpool-based startup has developed an IoT-powered hand sanitiser dispenser which tracks and records usage of sanitation stations across hospitals to prevent the spread of healthcare-associated infections. 
"We haven't been scared to pause development and test before we deploy," he tells TechBlast. "There's a lot of pressure, particularly in early startups, to get MVP (minimum viable product) out – or get a product out there which is not quite ready. You only get one shot at it."
Delaney took over the day-to-day running of Hy-genie from Richard Cooke, former director of infection prevention and control at Alder Hey Children's Hospital, who had come out of retirement to found the company in 2017.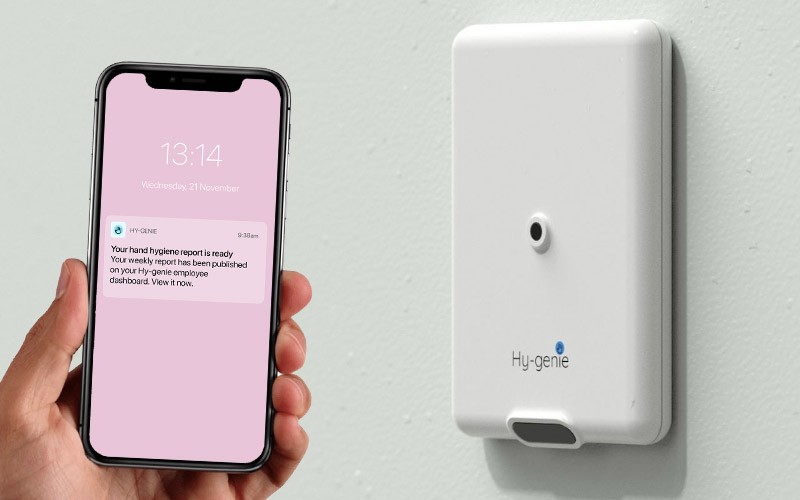 Delaney had a background in turnarounds and private equity deals at Aquarius Equity Partners. Of that time, he says: "I'd have to work out whether we had a technology solution which worked – but was a badly run, underfunded company – or someone's crazy idea in search of a market. Knowing either how to land them softly for investors or how to move them on has always been the focus."
It stood him in good stead for building Hy-genie despite the difficulties surrounding COVID. "We've had the experience to explain to people: 'This has been delayed by two weeks because we want to do some testing.' People think you're being careful because of COVID… the delays around COVID have probably worked in our favour because it has forced us to take it very, very slowly," he explains candidly.
"You have to make sure that you test, test and test again – but don't overtest, because at some point you've got to deploy."
MedTech 50 – UK's most innovative medical technology creators for 2021
Hy-genie was a worthy winner of our sister publication BusinessCloud's MedTech 50 innovation ranking last year – and it is difficult to overstate the role played by Alder Hey in its progress.
A newly published study in prestigious medical journal BMJ – co-authored by Cooke, Darren Powell, head of pathology at Alder Hey, and research associate Katie-Rose Cawthorne – highlights how the anonymised system led to an almost 15% increase in hand hygiene performance in the low-risk pathology department during a six-week intervention period, with no significant change in workload.
Hy-genie counts the hospital, Nova – an organisation which helps fledgling entrepreneurs build their tech ideas into businesses via investment and practical support – and Deepbridge Capital among its investors. 
"It's much, much easier to spend money than it is to raise it," says Delaney. "Founders should think about not only their commercial milestones, but their investor milestones: how can they give their investors the confidence that they have spent their money in the right way, and make them willing to spend more? 
"Rather than saying 'we've run out of money – can I have some more?', you should explain what you have done. If you're doing that with commercially savvy investors, that feeds into your commercial strategy anyway, because you are increasing value. 
"It's all about bringing people with you on the journey."