PropTech
Jeff Dewing cuts a relaxed figure as he reminisces on his East End upbringing and decades-long business career.
At one point in our interview, held over Zoom as he enjoys a break in Portugal, his wife brings him a bowl of fresh fruit for breakfast. But don't be fooled: the serial entrepreneur is as focused as they come.
Indeed, the fruit remains uneaten for more than an hour as we discuss how he grew Cloudfm from his garden shed to a £65 million turnover facilities management company business… and what came next.
"When COVID hit, it was the worst time of our lives by a country mile," he confesses to TechBlast. "We were collecting £6 million a month in revenue during our normal position; then on the 12th of April last year that dropped down to £200,000. 
"I had 350 mouths to feed and at that point there was no sign of furlough. We had to operate as though that £70m was going to go down to £20m. 
"When furlough came, it was life support; but it didn't solve our problems. How many of our clients would survive as businesses? We didn't know. And so we decided that we were going to reimagine our business."
Dewing was ready for the challenge. Already accustomed to flipping scenarios on their head with his approach to business and life – indeed, his book Doing the Opposite outlines principles to achieve success and happiness in both – he would succeed in both saving the vast majority of those jobs and doubling EBITDA in the process.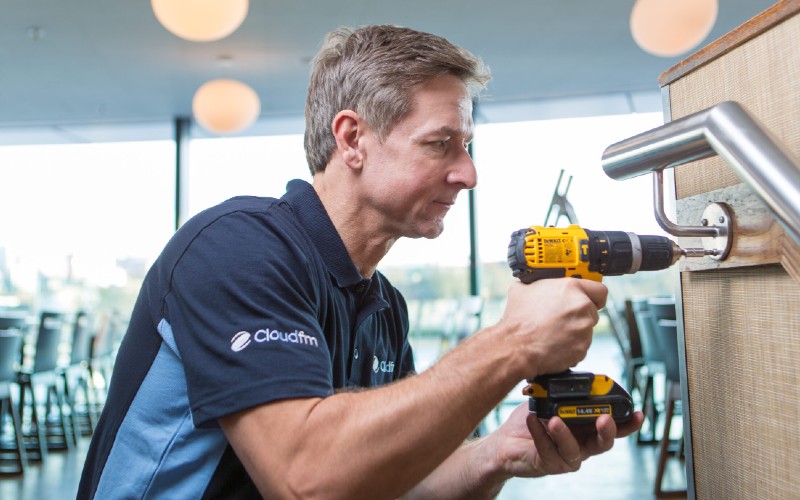 More on that later. First, it helps to understand where the original idea for Doing the Opposite comes from: his father. "All the things I have done to create my success begin with how I was brought up," he says. "My dad did things completely differently – and that shaped my life.
"When I was 14, my mates were older, had motorbikes and were going to the pub. I had no money and my old man would come home with a briefcase full of money, the takings from his business. I started nicking the odd pound or fiver – and my mum caught me red-handed.
"My old man was never back from work before 1am but came home the next afternoon and asked me if I had any plans. He said he wanted to take me on a trip. I thought he was going to take me to the woods to kill me! I absolutely s*** myself.
"We went to an Airfix shop and he spent 200 quid on a model plane. We spent every night building it together and flying it; then another one, and another… from that point forward, whenever I got a phone call from my mates, I'd say 'I'm in tonight with my Dad'. We spent the most incredible quality time together that we'd ever spent.
"He didn't punish me… he solved the problem a different way. He knew if he grounded me, it would just delay the inevitable."
After growing up and working as an engineer, he moved into a management position for an air conditioning and refrigeration business. "It was chaos! I started writing code on a computer to automate how we dealt with breakdowns, quotes, all of that. I spent a year of my own time working till 2am in the morning building that platform."
It had the potential to transform that business – but when the bosses refused to reimburse him for the £900 computer, he simply switched it off. "I'd been a month behind on my mortgage for a year. There are rules in life," he says. "But that was then the push to say, 'I've just worked out how to run a business'."
How a plan drawn up on a napkin turned GP Bullhound into a $100m a year business
Essex Air Conditioning was born in 1990 and built up into a solid business. However loneliness and boredom would drive Dewing into the non-league football scene, first sponsoring local village side St Oseph before Clapton Town came calling. 
"I enjoyed building my business at the time, but I couldn't find good people to work with me and I was very, very lonely. The buck stopped with me for everything – I couldn't rely on anybody else despite bringing in people and paying silly salaries," he admits.
"The football club just gave me that little bit of interest and spark to make me feel happier."
He adds: "They were two levels below Conference and semi-professional, but run by volunteers, £400k in debt and unsuccessful for 50 years. I told them that the secret to our success at St Oseph was getting the best out of people.
"I modernised the club: I leveraged business relationships for sponsors, massively increased revenue on food and the bar, attracted players from higher leagues, got us all over the local press. We didn't concede a goal until March and the average gate grew from 30 to 600."
The newfound focus took him away from EAC, which would be liquidated as a result. "In the second year I found I was spending 80 hours a week at the club. Clacton FC consumed me: generating revenue, supporting emotional players, spending seven nights a week there as it became a social club. 
"I left a colleague of mine who I had known for 10 years to run the business and dropped in every now and again. He wasn't experienced and competent in running an entire business. I expected too much from him and just closed my eyes to the problem because I was bored, and this excited me. It was my fault, not his.
"I had to call in the administrators to understand how bad it was… we just had to liquidate it."
The experience took a toll on his personal life and he ended up on benefits. "When it came to the end, my wife held me responsible – and she was right to do so. The impact on our lives, on our relationship, was massive," he confesses. 
"I felt a complete and utter failure. That in itself was incredible pressure on me, but I couldn't hide from it – I just had to face it and decide what I was going to do about it. More importantly, what was I going to learn from that experience?"
From contemplating suicide to tackling business's 'silent emergency'
He returned to work in refrigeration. His technology platform, written in ASP.NET in these days before multiple software languages, again came in useful while running a department within a £1.2bn business based in Canary Wharf. 
"I was employed as a board director within the seventh biggest facilities management company in the world," he says. "Within three months, I realised that they were 500 times more chaotic than anything I'd ever seen before! They didn't know what day of the week it was. 
"It was all just smoke and mirrors. I brought my technology in again to stabilise my department, but the moment I tried to influence the bigger business, they paid me a huge sum of money to leave again as I was viewed as disruptive.
"That's when I decided to start Cloudfm."
The payoff would allow Dewing to operate without a salary for the first year, hiring data scientists and SQL experts to recreate the platform he had built in a scalable, robust and commercially ready form. It took two years. 
Following launch, Cloudfm – which featured on the recent PropTech 50 ranking on our sister publication BusinessCloud – would turn over £1m in year one as it helped its first client Republic Clothing manage its portfolio of 20 shops. However disaster loomed.
PropTech 50 – UK's most innovative property technology creators for 2021
"Republic went bust, owing us £250,000. I thought 'that's going to kill us'," he recalls. "We were negotiating with Pret a Manger on a £1.5m contract – we'd asked for payment terms of five days but they preferred 30 days. 
"They said: how about we pay you in advance for half the contract value, and then we'll pay the balance on 30-day terms? 
"So they paid us £600,000 – and that gave us our life to trade out of the Republic problem by the skin of our teeth."
He advises: "No matter how desperate you are, you must never undervalue your product or your service. What you don't pay for, you don't value.
"You have a responsibility to give value for the cost, but how do you create value? That's the million-dollar question."
Dewing says "lies and deceit" are endemic in the FM industry, with engineers and suppliers exaggerating time on the job to inflate their income and avoid tricky questions. "It's not down to bad people, but the tools they are given," he says. "If an engineer arrives late, someone will change the time because they want to meet their KPIs… data is being played about with all the time.
"Our technology is designed to be utterly transparent – good, bad or ugly, you're going to see it. If they were only there for an hour and a half, that's what it says – so that's all you can charge for.
"There's only one version of truth: everybody sees it, because you can't edit or touch any of our data. No one can delete it."
He adds: "The technology was built to influence behaviour. Everyone's trying to procure on an hourly rate – but if the plumber at £38 an hour takes three hours to do the job and the one at £40 takes one hour, how do you compare that before it's happened? You can't measure value – you can only measure cost. Whatever you spend on an hourly rate will have no impact or influence on what you spent at the end of the year – it's the behaviour of the people conducting the work. 
"Every engineer that ever goes to a site to fix a problem is controlled by the service sheet he or she fills in. That piece of paper dictates his salary – he's incentivised to go a little bit beyond the truth. And that's what we've all been doing for 50 years. That's the way the world works."
In 2014 – its third year of operation – Cloudfm won a £12m-a-year account with Gondola, owners of Pizza Express, Ask and Zizzi, then in the following four years grew turnover to £65m.
"As part of our business model, we employed 150 engineers in vans actually doing some of the work," says Dewing. "When COVID hit, we said to them 'you need to go over to the supply chain'… essentially we put 200 people at risk of redundancy. 
"Everyone knew where they stood and had three months before they would be let go so they could plan their lives. I then put an army of people on helping those people find a job… we managed to help 192 of them into new work.
"We also set up three budding entrepreneurs in their own business as suppliers to CloudFM, taking away every barrier. We tupeed 120 engineers into those businesses. 
"We're now 130 staff; we've gone down to £50m, not the £20m we planned for; and we've turned a £4m EBITDA, which is double the profit we ever managed with £65m."
Next up is a predictive maintenance platform, Mindset, which has been in R&D for two years. "We've partnered with Essex University to build IoT (Internet of Things) that goes beyond anything else in the market," says Dewing.
"We expect Mindsett and Cloudfm to create a valuation of £200m by 2025."