MedTech
Investors
New markets
"It is the nature of MedTech that everything takes three times longer than you think it will."
Jonathan O'Halloran has certainly lived those words: a 14-year journey recently culminated in QuantuMDx launching portable PCR testing machines across the UK and Europe.
The Q-POC devices are capable of detecting all variants of COVID-19 within 30 minutes and are being used in clinical and non-clinical settings.
The CEO – known as Jono – started up the firm from his garage back in 2008 and took it from Sussex to Cape Town in South Africa, before a funding cull saw him move it back to the UK and Newcastle.
"We licked our wounds for a year before starting all over again in some free lab space that our chairman, Professor Sir John Burn, gave us in Newcastle," he explains to TechBlast.
Investment in the MedTech sector has been accelerated by COVID-19, adds O'Halloran (pictured below). "COVID has had a massive impact on our company and the industry as a whole. It shone a light on diagnostics and taught the world what PCR and lateral flow test technologies are, and how we assess clinical trial data to compare tests.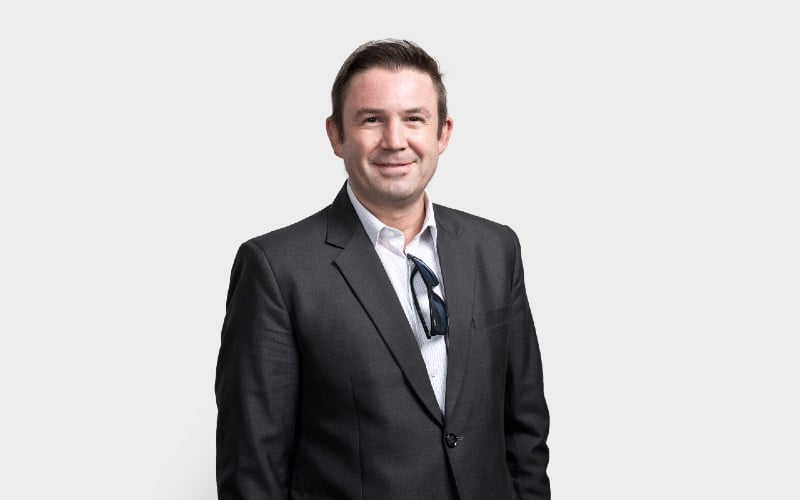 "We managed to raise funding to turbocharge our scaleup manufacturing and are now in the market, selling product. It looks like the coolest diagnostics device on the market – and it is! 
"The Q-POC platform has been engineered to limit the need for highly skilled operators. Each test requires only one-minute hands-on-time to get your test started, using easy to follow, guided workflows on the touch screen. 
"Due to the portable nature of the Q-POC it can be used anywhere by any trained individual such as healthcare settings, workplace testing, travel, care homes, airports, dentists – the list is endless.
"The whole QuantuMDx team have worked incredibly hard to deliver a top-quality product under incredibly tough circumstances."
Detects all COVID variants
Q-POC has the ability to process samples and perform PCR tests in as little as 30 minutes, providing accurate results without the need for an entire molecular diagnostics lab. 
"You collect a swab, transfer it to the cassette, insert it then into Q-POC and the PCR test will be run automatically with results in about 30 minutes," explains the CEO. 
"Our bioinformatics were designed to be as variant-proof as possible. The test detects all variants of COVID as we target three genome loci and not just one. This means if there is a mutation in one or two – very unlikely – targets, we will have sufficient redundancy in the test to still detect SARS-CoV-2." 
VC backing
The company has now secured £15 million backing from Vita Spring, a Hong Kong-based venture capital firm focused on early and growth stage medical companies with disruptive technologies and global market potential.
"This money helps us drive sales throughout the UK, EU and beyond and it allows us to initiate projects to evolve the Q-POC device to add even more functionality, as well as expand the test menu," says O'Halloran.
"We hope this will lead to a more wide reaching partnership for the China market this year. The potential for what could be achieved with this is incredibly exciting."
He adds: "The biggest challenge [for any MedTech leader] is in funding. New hi-tech devices are complex and unpredictable. This means timelines will change and that's not always easy to explain to investors. 
"My advice would be to get a mentor who has been there before, got the scars and can help you navigate this incredibly tricky aspect of MedTech startups."
Things have moved on since that first lab. "My garage is now filled with beer and my vinyl trance and house records!" he grins.